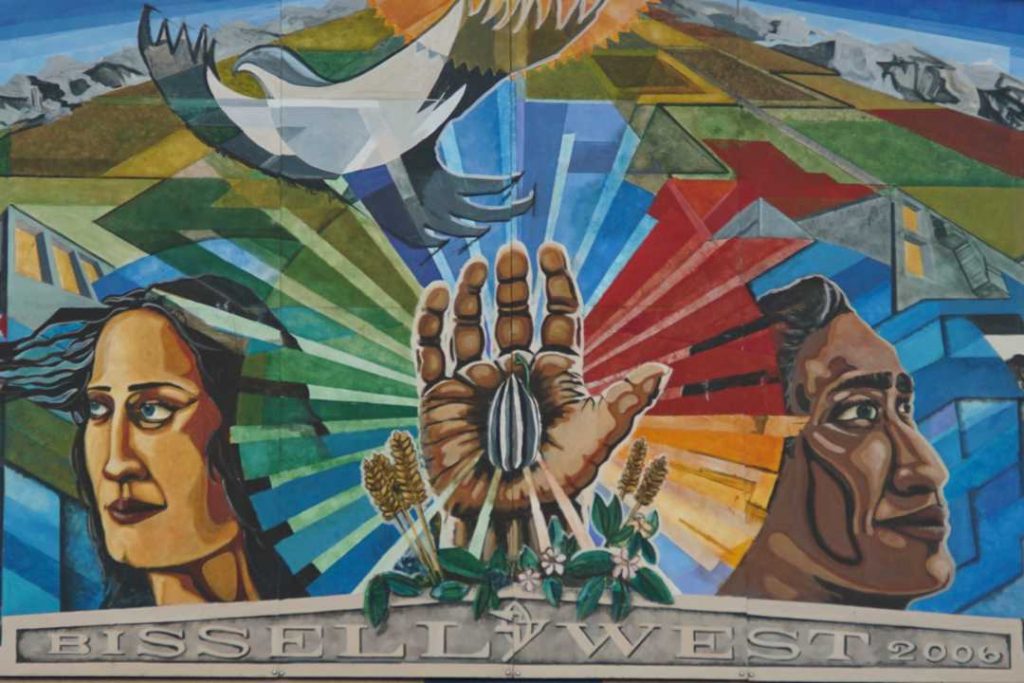 The Bissell Centre
Welcome to the final stop on our downtown social issues walk. We hope that what you've heard today has encouraged thoughtful conversation, inspired new resolutions, and sparked ideas for how you can support the community initiatives in Edmonton.
You are standing on the east side of 96th Street, between 105th and 106th Street. Across the road is The Bissell Centre West building. Its brightly coloured mural is a tribute to Indigenous culture and community that is an integral part of the neighbourhood.
The Bissell Centre began as the Pike Mission in 1910, founded by the Reverend William Pike and his wife Florence. In 1919, they joined with two other missions and became All People's Mission, and then eventually the Bissell Center, after Torrance E. Bissell. The Center was heavily involved in supporting people during the Great Depression and founded a summer camp on Lake Wabamun which is still in operation today.
During the 1950s and 1960s, the community surrounding Bissell Center began to change. People living on low income were moving to the inner city as many middle- and upper-class families moved to suburban communities. Services at Bissell Centre adapted once again, and more services became available to help people meet their basic needs.
Today, the Bissell Centre offers an extensive list of programs for individuals and families, as well as a Community Thrift Store and Community wellness, arts, recreational and educational programming.
Parenting in poverty is extremely stressful. The Bissell's Early Childhood Development Program provides full-time childcare as well as a drop-in/respite program that provides low-income families with free temporary childcare so that parents can schedule medical or housing appointments, job interviews, or personal self-care time.
If the sidewalk is clear from snow, press pause and spend a few minutes slowly walking up and down the sidewalk reading the writings etched in the concrete. These are the winning submissions from a poetry contest in the community.
If you are taking the walk during the winter or virtually, press play to watch a video tour of the sidewalk poems on the Story City App. Which one is your favourite?
And with that, we come to the end of our walk together. Thank you for taking the time to experience our neighbourhood through the lens of those living in poverty and homelessness. It's our hope that you come away from this walk having learned something new, with perhaps more questions than answers, and that you are inspired to look for both the beauty and the needs that are present in your own neighbourhood.
If you would like to learn more about the work of The Mustard Seed, please visit our website – www.theseed.ca.
If you are interested in learning more about how you can be a part of our volunteer team, please call our Community Support Centre – 780.426.5000, or click the Volunteer Link below. And if you would like to financially support to the work of The Mustard Seed, you can do that via the Donation Link below.
Thank you again, and remember, just as a tiny mustard seed grows into a flourishing tree, a small act of kindness can make a huge difference!