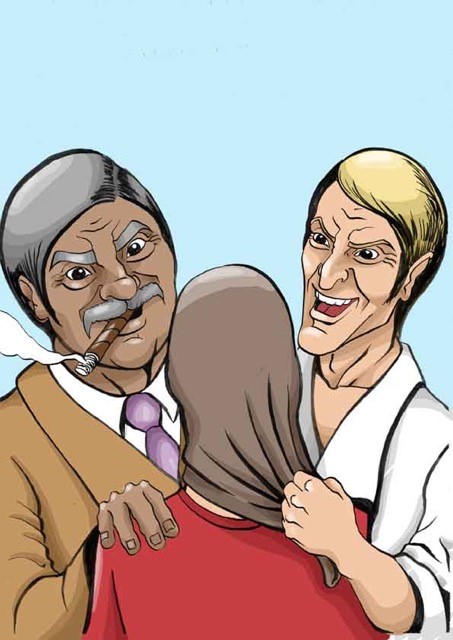 Trawler, Pier H
The first boat you notice is a prawn trawler, a floating web of lines and netting more confusing than your Great Aunt Edna's underwear. It must be too rough to be out fishing today. Luigi heads for the rear deck. You edge down the jetty to get a closer look and are knocked sideways by the pungent waft of trawler boat blowin' in the wind. You hope this won't taint your love of fish fingers – some smells can never be unsmelled.
Three other men join Luigi and Khaki Pants on deck. They cluster in a tight circle. He's showing them something you can't quite see. One of them wearing a pink fedora and toothy grin shakes an ivory satin-covered bridal horseshoe about. Khaki Pants pulls out a small silken pillow, the kind you bear wedding rings on. This is the most bizarre, fishy smelling group of wedding planners you've ever seen. They part slightly and you see Luigi toss a depleted-looking purple and orange bouquet to the deck.
He raises a loop of ribbon in front of the men and there dangling before their slavering grins are your godmother's rings. You gasp a little too loudly and all five men swivel to face you. Oh-oh, your mind races to remember the words of your self-defence instructor; the key to outmanoeuvring multiple assailants is…is what?!
You kick yourself for dozing off that day, aim a few more misdirected kicks at the advancing cronies then sprint to the end of the jetty. It's a dead-end. Your foot snags a lump of driftwood heaped to one side, but as you reach for a piece, a wet sack is hauled over your head. You gag on the odour of its previous occupants as you are pushed and pulled along the jetty, over gutters, across something spongy (grass?) and finally up about five flights of stairs. If you weren't wearing a sack, you'd swear you'd just clambered up the walk-thru' to the resort from Quay Street, the shortcut you discovered yesterday. It feels like you scaled Mt Everest. You're shoved left and dragged further along. You'd probably enjoy the mellifluous birdsong surrounding you, if you weren't heaving for air.  Are you back at the resort?
Go to Life of Crime – The Woolshed.
BONUS ACTIVITY
The thought of performing Elvis classics makes you want to heave. You'd rather channel your creative prowess into photography, capturing as many memories as you can to turn into a photo-book for Delilah. It might be the best keepsake she gets of her Sanctuary Cove wedding. Take a photo of yourself at each location, and then upload it to Facebook/Twitter using #StoryCity.