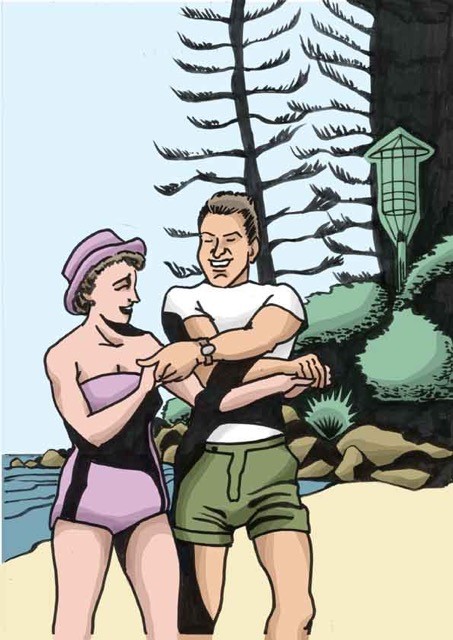 Greenmount Beach Front
There is a large crowd gathered on the beach, young men and women pressed tight in bathing suits laughing and flirting, egged on by an eager ring master, Hokey Pokey leader Doug Roughton.
You've heard the stories from Grandma more times than you care to recall – how Doug Roughton drove up from Melbourne after World War 2, drawn by stories of a seaside paradise told by some soldier mates. How it took Doug six weeks to drive from Melbourne to Coolangatta, having to stop and wait for the punt to cross every river because there weren't any bridges. How he pulled up at Greenmount, saw the golden beach, peeling waves, sparkling sunshine and swimsuit-clad women and declared, "I'm never leaving." He never did. How he set up the Greenmount Kiosk, and how he installed a set of outdoor speakers on the beach after realising all these young holiday makers were flocking to Greenmount in search of romance. He single-handedly orchestrated elaborate beach games to help the demure young things break the ice.
The famed Hokey Pokey isn't the cheesy dance most people now know, putting your left foot in and out and shaking it all about it. Rather, it's a series of miming gestures pretending to play musical instruments, a fad picked up from visiting American soldiers during the war. Then there's the pillow fights on logs, the themed fancy dress parties, Ron Rico the hypnotist. After years of marveling at these stories you can't believe you're finally seeing it with your own eyes
But the frivolities appear to be drawing to a close, as clusters of people begin to disperse. Some move north up the beach towards a structure of timber poles where the old pillow fight on the log is about to take place. Others move towards the surf club where another crowd is gathering about a stage with a hand-painted banner on a white sheet behind it announcing the appearance of renowned hypnotist, Ron Rico.
You look from the surf club back to the pillow-fight log further up the beach and wonder where you might best catch a glimpse of your grandparents amongst the crowd.
Do you:
The Hokey Pokey: Head down the walkway to the beach towards the water's edge hoping to catch them there? Head down the nearest walkway to the beach, slightly to your right, through the Pandanus trees. You walk north a hundred meters and stop by the water's edge. Grandma and Grandpa always spoke of their love of the Greenmount beach games and if there's a crowd gathered there's a good chance they're in the thick of it.
Or
Ron Rico the Hypnotist: Head to the surf club hoping to catch them at Ron Rico's legendary hypnotist's show? You recall them joking about the day Grandpa was hypnotized, but Ron Rico's shows run all Summer long so you can't be sure this is the day they attended.