Christian Care Centre
Welcome to The Mustard Seed's Westend Social Issues Walk. We are glad that you have chosen to spend time with us today, walking through the Westend of Edmonton and experiencing it through a different lens. On this walk, not only will you learn about the rich history of West Edmonton. We will explore some of the issues that impact the lives of people in the community who are struggling with poverty and homelessness. We hope this walk shines a light on the diverse community organizations that work to ensure that each person lives a fulfilled life, while recognizing their unique gifts, strengths, and contributions to our community. So, we invite you to open your eyes, your ears, and your heart as we walk together. The walk is 4.5 kilometers in total, which can be completed in about 1 hour and 20 minutes and if you are cycling, it will take you about 45 mins with all the stops.
You are standing on 150th street, and in front you, is a white rectangular building, with peeling paint and a faded front sign introducing the Christian Care Centre, CCC for short. Across the street from the Christian Care Centre is a No frills, a grocery store that fulfills many of the daily food needs of the Centre's programs. Originally, CCC was run by the Catholic Church until four years ago when the Mustard Seed took over. The Centre serves the unhoused and underprivileged population in West Edmonton, with the understanding that poverty exists around the city, and thus requires city-wide services to combat it.
The Centre is open Tuesday to Friday, 9am – 12pm. During this time, community members are able to sit down to a warm breakfast, get a packed lunch, talk to a social worker, and get referred to some of the housing and employment services that the Mustard Seed provides.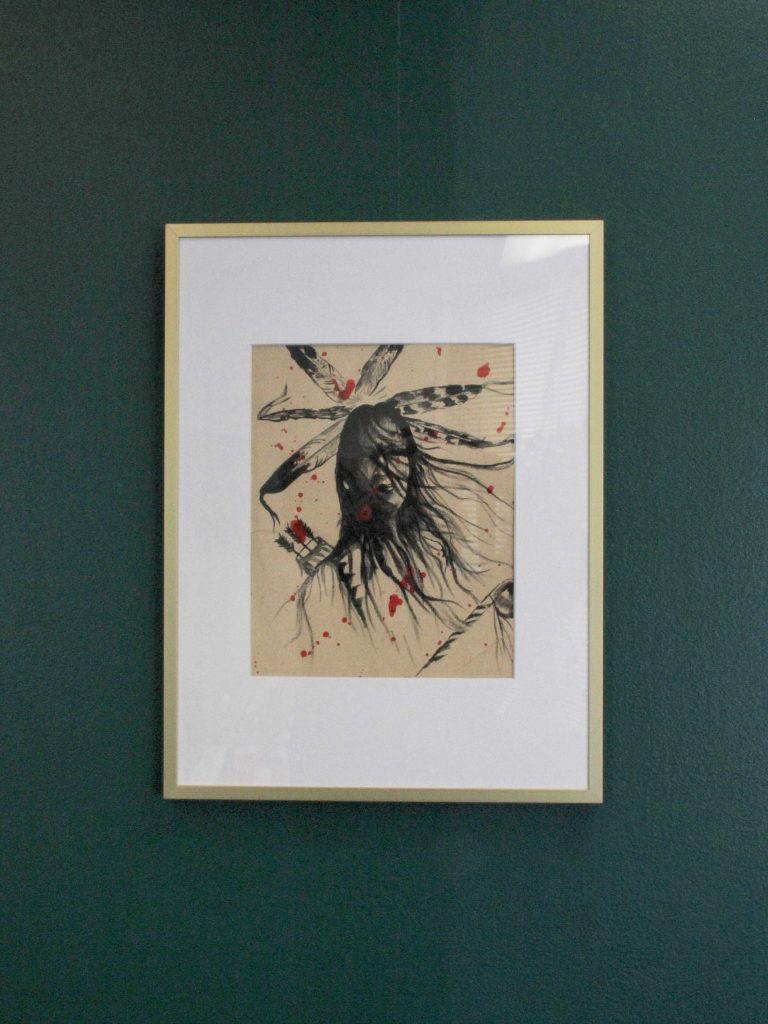 This Centre is a crucial part of the west-side social services network as there are not as many services available for the West-end based community. In fact, almost every available service is covered in these 8 stops. The CCC also hosts art nights on Tuesdays where community members are able to gather and spend time engaging with other community members while also experiencing and expressing themselves through art. While the focus of charity is so often on addressing the more immediate needs of food, shelter, and clothing, the need for creative expression in a communal setting brings a tangible benefit to our mental health and spiritual wellbeing. Addressing these additional needs are part of The Mustard Seed's holistic-based care model, in which the physical, emotional, spiritual, and mental aspects of wellbeing are addressed. Scattered across the wall inside the Centre, you can see some of the art pieces created by the community members! Not only does this enrich and beautify the walls, it also creates a more inviting atmosphere for users of this space.
Take a listen to one of our folks share her experience and how the Christian Care Centre has been fundamental in her journey.
---
Actually, I was born in Edmonton. I was raised in the Yukon and then I came back to Edmonton. I was homeless for years and Christian Care Centre was here. It was part of one of my drop ins in the west end where I came.
Even though I was homeless, I didn't know about the Christian Care or Jasper Place Wellness Centre drop-in because of my life style. My life style didn't take me anywhere. I just stayed where I was because that all I thought I could be or I was, was being an addict.
There is so much more to life, so much more, you know. God opened my heart spirit and soul and, and just everything changed in my life when I gave my life to him and, as I walk into Christian Care and Jasper wellness Centre, all of the brothers and sisters I see, I see with love, you know. I don't have no more anger or resent or revenge, you know.
Like, it took until I was 55 years old to, for my things to change but, like I am 60 years old but I feel like I am a baby, a new born baby being born into, into a world of love. I find coming to the Christian Care Centre, is, is just so community based for me. I Just feel like it's a community. They do gardening and they come and talk to you, they you know, like an, like an eye to eye level not a look down at you level. Its, and they make you feel welcome.
I have to put them two together because they are both where, one place where I work and, and they are both drop-ins to help the homeless, to, to support them and whatever, ever, whatever needs that they have. They have an emergency, emergency clothing hamper here, closet here. And they have, they can give our vouchers to, to the thrift, the Mustard Seed Thrift Store.
Christian Care Centre was, was one of my, places where like, I kept warm, and, and they gave me food and I did feel a sense of security, and, peace just for you know, however long that I was, I was here so that's how it became part of my life because I was safe and, secure and, I had food because you need those first emergency needs to be looked after and those where my needs at that time.
That was about you know, 15 years ago. I see a lot of people come here and, where I was at, I still see people that, that where I was at and, like I'm just so amazed because I know they are going to be standing where I'm at right now, you know?
Now, now that things are changed, I, I would just like to be a part of whoever comes into Christian Care Centre or the Jasper Wellness Centre and, and to be the hands and feet for who God wants me to be so we, we can walk them to, to his truth of who He is and, and His love and, and Kindness and gentleness. Thank you.
---
We will now continue on to our next stop, where we see how the neighbourhood has banded together to address the expansion of the homeless and poverty epidemic beyond the downtown boundaries that once confined it. Make your way south to Stony Plain Road and continue West until you reach 153 Street. It is a couple steps to the right that you will find the burnt-orange structure of the Fusion Fellowship.