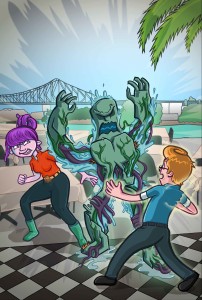 A water revenant has pulled itself from the Brisbane River. Can you help Queensland's least competent superheros protect the city from this undead monster?
You've found yourself a waiter gig at Customs House but something seems odd about these party-goers, is that woman's skin slightly green? And you swear you just saw a flicker of flames in that man's eyes. It's not until a monster crawls out of the Brisbane River that you know for sure that this is a room full of superheros. But only you can help them out of this crisis. Will you plead for the life of the creature? Or will you send him back to the watery depths from whence he came?
This adventure starts at Customs House on Eagle Street.
Rated: PG
Narrator: Sam Piaggio and Ori Diskett
Krissy (voice): Lois Spangler
Jack (voice): Ben Crisp
The Revenant (voice): Ori Diskett
Illustrations: Gabriel Cunnett and Emily Craven
Music by: Ori Diskett
This adventure was made possible thanks to the Brisbane City Council Innovation Award.