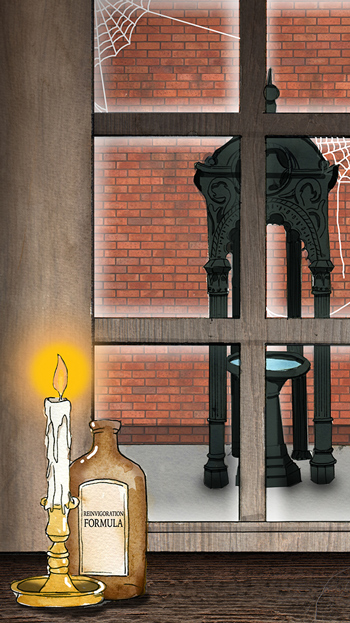 ONE: YOU SELECT THE GRIFFIN
As you pour the water over the Griffin, the iron begins to glow incandescently. Fragments melt away and the creature emerges. It leaps to your side and you feel the sharpness of its talons on your shoulder, but they don't dig in.
This contrasts with the softness of its feathers that brush against your neck as it keeps balance.
The Griffin will serve you well in the protection of your possessions.
Emboldened by your new ally, do you: 
THE ROYAL ARMS HOTEL: Step up your pursuit for cargo? The Royal Arms Hotel might be a good place to trade or find information. Cross the road and head further down St Vincent Street, beyond the St Vincent Chambers.
OR
COURTYARD: Prioritise finding the ship pieces? There's another Ship Merchant nearby that might have goods in their Courtyard. Cross St Vincent Street and head straight up Lipson Street.