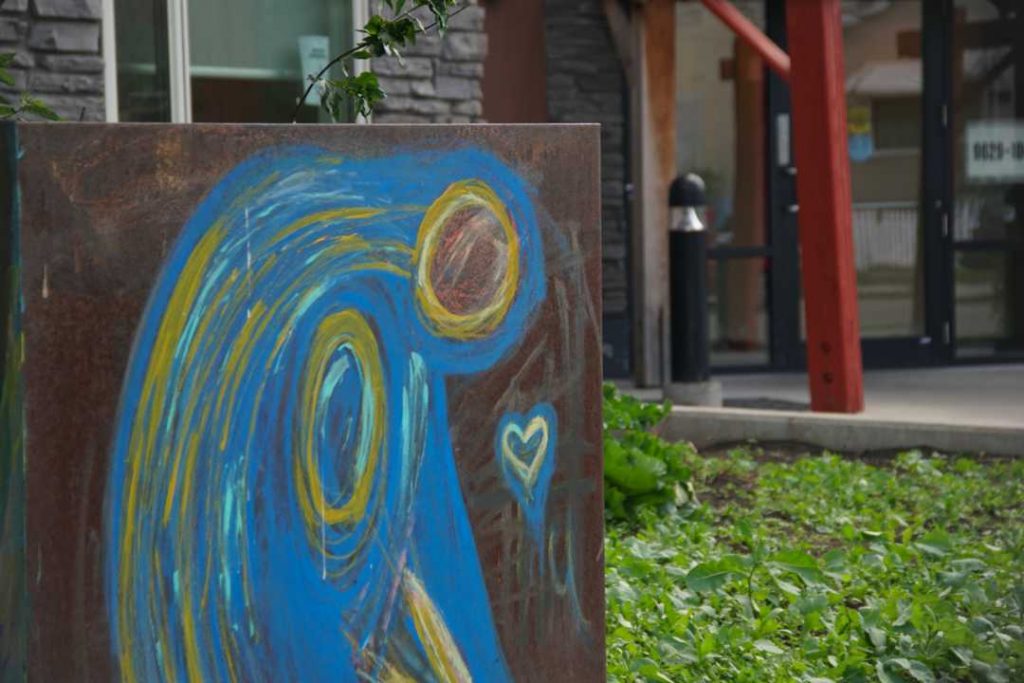 Ambrose Place
As you walk West down 106 Ave, about halfway between 96th and 97th St. you will find on the South side of the Street a beautiful four-story apartment building. A vibrant mix of yellow, black, white and red, the exterior of the building reflects the colours of the medicine wheel. This building is a supportive housing building, owned and operated by NiGiNan, and specializes in supporting indigenous individuals out of homelessness.
Approximately 59% of Edmonton's homeless population identify as indigenous. This significant over-representation is directly correlated to the on-going impacts of colonization, and intergenerational trauma that uprooted many from not only their homes and lands, but their culture, beliefs, and families. Over the last 10 years, Edmonton has implemented a housing first approach to support indigenous, and other individuals out of homelessness.
Housing First approaches are rooted in the belief that housing is a human right, and there must be an adequate supply of housing options. Many Supportive Housing buildings in the city are run and operated by different agencies, including The Mustard Seed.
Supportive Housing programs provide intensive supports to individuals who have various barriers to housing, and offer a variety of assistance to residents, including life skills teaching, medication management, mental health, and addictions support and most importantly build a sense of community.
Take a listen to one resident share her experience about living in a supportive housing building.
"I've been at the Westwood Manor a little over three years, and Westwood Manor grew me up. I don't do the things I used to do – drinking – I am a sober woman nowadays. And I don't think I want to leave Westwood because the security of the building is what keeps me here, and that's what I like about it. I was chronically homeless, and I was a chronic drunk – alcoholic – and I had nothing but alcoholics with me.
So now, [laughs] I'm more peaceful, I'm more, you know, I like being alone, I don't need really anybody around me. I've [done] a lot of issues in my health, mainly, which allows me this time I'm here at Westwood, allows me to take care of myself, my health. I'm 56 years old, I'm not young anymore, and I'm looking forward to the future. Maybe I want to get a part-time job."
"What does it mean to you to have a home?"
"It means a lot. It creates, it gives me stability to be able to mentally think, as I have a brain injury; I have to take care of that. And ultimately it just gave me the time [and the issues] to take care of me."
Supportive housing, along with other housing first programs housed 1,739 people in 2020 alone, however there is still a long way to go, with over 2,000 Edmonton citizens still without a home.
Continue along 106th Ave toward our next stop at 97th Street. Here you will learn more about this part of the city, and the exciting employment program at The Mustard Seed.