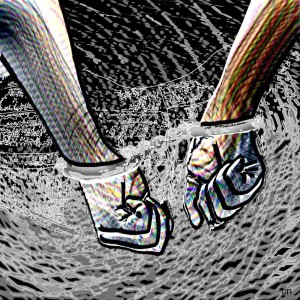 Boggo Road Gaol: Watchtower
You reach the prison watchtower without drawing attention. You pull out your smart phone with the sandwich tucked under your arm and open the surveillance hacking application you've been itching to use. There seems to be an app for everything these days.
You follow the prompts and it works. Thumbnails of live CCTV display on your phone. You even see yourself on one of the video previews so you shuffle closer to the wall, out of sight. You scroll down the screen and watch agents search shoddy cells and labs hidden beneath the prison, but thankfully, no footage of Bloggo. He must have made it out. But wait, you spot a huddle of agents detaining someone. It's Lucy and she's being escorted with her hands held forcefully behind her back.
You follow the surveillance and watch Lucy chaperoned to an underground room but there's no footage from inside.
Finally, after half an hour, two agents walk her out of interrogation. She's sobbing and disheveled. Your attention is diverted by agents bustling by. You sink back into the wall trying to be invisible and the agents head toward Harmony Gardens.
You look back at your phone and there's Lucy outside the prison gates being shoved in the back of a black car. You look up as the car door slams behind her. The car veers around the corner of the prison on to Annerley Road in the same direction.
Lucy must have cracked. You don't blame her. It's too dangerous to go to Harmony Gardens now, but in saying that, they wouldn't be taking Lucy out of the car anytime soon… A plan starts to hatch but you worry they know about you too.
Do you:
Harmony Gardens Carpark: Decide to risk it and follow the cars and stealthily rescue Lucy? Go to the carpark off TJ Memorial Park Drive.
Or
Boggo Road Jail Entrance: Attempt to infiltrate the secret agency while there are fewer agents around? After all, isn't exposing their shady dealings to the world the best way to get Lucy back safely and free poor Bloggo? You disable their surveillance from your phone and discreetly walk to the prison's gate following the brick wall to find hard evidence.