Whether it's a grand manor or a microloft; a tear down or an infill; an eccentric bungalow or a forgettable walk-up; every home has a story to tell…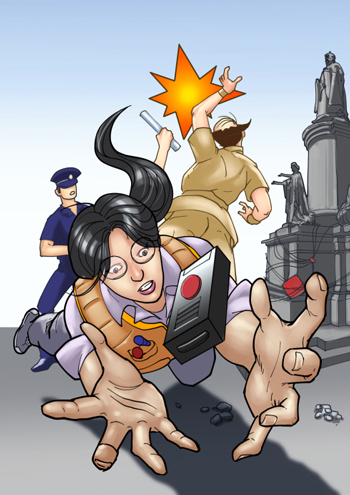 The Home Suite is an answer to the question, "who would I be if I lived in this house?" You're invited to take a stroll through Old Strathcona, pausing to notice the little details that make a house into a home, and listen-in on the lives of their possible inhabitants. The Home Suite is an ode to the homes that shape us, even as we shape them; 10 short audio pieces to be played in succession, like a musical suite.
This experience starts outside Crawford Annex, 10319 83 Ave. Find a spot on the sidewalk next to the Old Strathcona Youth Society, facing the multi-coloured mural and the unit windows at the back of the building.
Rating: PG
Performed by: Ben Stevens, Paula Humby, Robert Benz, Christina Nguyen, Sheldon Elter and Kristi Hansen.
Offer What You Will
It's darn important to us that Found Festival remains accessible for as many Foundsters as possible. That includes making all tickets Offer What you Will. No one will be turned away for lack of funds. But if you're able, we ask you please make an offer, we suggest $10/event if you can afford it. As a tiny but mighty arts org getting it done on passion and grit, Common Ground Arts Society relies on donations to help keep our scrappy operation afloat. Every offer you make goes directly toward supporting artists in our community.
Any offer over $10 is a direct donation to Common Ground Arts Society. All donations over $20 will be provided with a charitable tax receipt.
Information
PSST! Hey Foundsters – COVID-19 is real and we want you to stay safe and healthy. All of our programming is designed to be experienced solo or with your designated cohort/house group/pod. Please don't gather in large groups. Please mask up. Please wash your hands. Please keep a safe distance from others. And please review Alberta Health Services' recommendations here and here.
The Home Suite was created as an audio piece. Therefore, we invite you to click on the audio button on the bottom right corner of your screen once you arrive in each new location. Find a spot on the sidewalk to watch the house and the street, and press play!
You can choose to walk, cycle, electric scooter, or drive this experience.
This adventure takes place at 10 locations over 2.9 km. It is dog and stroller friendly and should take about 1h30 to complete. Feel free to visit all the houses in one walk, or to split up your adventure. After you listen to each story, look to the bottom of the text where we have included directions to the next locations. You can also find the addresses to enter into Google Maps if you find our directions confusing.
Land Acknowledgement
We find ourselves in Amiskwaciwâskahikan (ᐊᒥᐢᑲᐧᒋᐋᐧᐢᑲᐦᐃᑲᐣ) on Treaty 6 territory, traditional lands of the Cree, Nakota, Blackfoot, Dene, Saulteaux, Metis, and other indigenous peoples who have made this place home long before we settled here. For thousands of years, people have gathered here to share in story, community, and creative exchange.
We find ourselves thankful: thankful to play a small part in that long-standing tradition, a tradition carried on the shoulders of so many creators, builders, dreamers, agitators, and makers who came before us, and who will come long after us.
This experience is presented by Common Ground Arts Society as a part of Found Festival 2020: Reimagined with support from Story City.
Found Festival is funded by the Edmonton Arts Council and the City of Edmonton, Alberta Foundation for the Arts, Canadian Heritage and the Government of Canada.