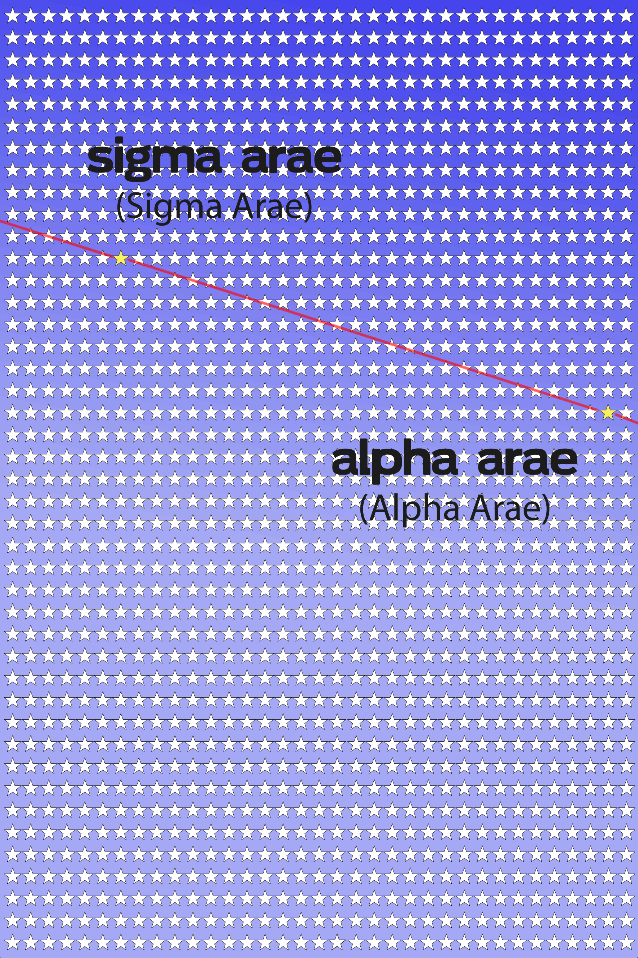 Archie Moore – Starlines, 2016
To hear about the work from the artist, select the 'Audio' button below. Select the 'Stop' button with the musical note to stop the recording.
For the location of the next artwork in the tour by Megan Cope, please see the directions at the bottom of this page.
Starlines
ABOUT THE ARTIST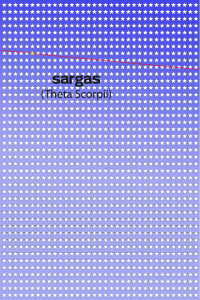 Archie Moore's conceptual practice is embedded in Aboriginal politics as well as the broader concerns of racism, language, identity and interpersonal understandings. Moore employs a broad range of media including painting, drawing, sculpture, installation, photography, video, sound and aroma. Language, including foreign languages, plays a constant role as do the concepts of dwelling and dwellings. Being in one's skin and the question of whether or not it is possible to experience someone else's experiences is an ongoing theme.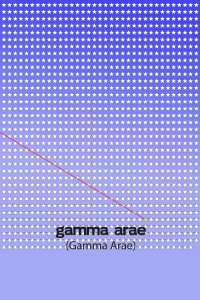 ABOUT THE WORK
Sir Thomas Brisbane's A catalogue of 7385 Stars is a starting point to look at where Western science and Indigenous knowledge can learn from each other despite their different approaches. Moore has catalogued stars ordered and organised in a linear fashion with an overlayed representation of an Aboriginal star map of a route to the Bunya Mountains. Where Europeans used the stars as a navigational tool, stars (or dark spaces between them) were a memory aid and a mirrored reflection of a route (songlines) on the ground, to ancient astronomer Kamilaroi ancestors. It has been said that some of our highways and roads are built along some of these same paths.
AN INTERVIEW WITH THE ARTIST
Hi my name is Archie Moore, grew up in Darling Downs, Western Queensland. May be from the Kamilaroi mob… not confirmed on that. The name of my piece for the vibrant laneways project is, Starlines.
In a lot of my works I'm interested in memory and memory of place. I think it's the Kamilaroi mob, that's what I remember from the few words that my aunties and uncles would say. But another aunty contests that it's not that mob, she thinks that it's another group, so I've still got some research to do in that area. I used to not be a very sociable person, as a child, so I'd just stay home and read books and do drawings, and I'd prefer that because I'm quite anxious about, well, I wasn't allowed to fit in, so I didn't want to anyway. I was ashamed of being aboriginal person, so I didn't really want to know about it until I got older.
When I do a work I sort of like to look at the history of the site, so I was trying to find something interesting about Eagle Lane and I found a thing about a hack-saw man, and he was like a petty thief on the run. There's like a few stories about him. And, I couldn't find a indigenous history with that place.
But then I changed it to, I looked at, Thomas Brisbane, who was an astronomer and he did a catalogue of 7385 stars and that's like the starting point of the work. So I've got 7385 stars in a very linear pattern, very regular, western way of looking at a star. And over the top I've got this star line, which is like a route to the Bunya Mountains from a northern western New South Wales town. I've used the aboriginal way of drawing a star which is like sort of a dot and a circle around it. Or a dot and several dots around it. And the line I've drawn between those points is hand drawn, just as a contrast to the formality and regular, rigid format of the western way of categorising things.
Just looking at the differences between western science and indigenous knowledge, and how they can sort of co-exist and learn off each other even though they're two very different approaches. The stars were waypoints. But the way they were used was different to a western person would navigate via the stars because the star mightn't have been significant to an indigenous person, it might also be the dark patches between the stars, spaces between the stars. You could see a line of particular stars in the sky at night but that path would mirror a path on the ground. It was more like a memory aid to the traveller and it's also been said that some of our highways and roads follow those maps in the sky.
From here to the Bunya Mountains is like, 250kms or something. Every three years there'd be a festival at the Bunya Mountains, collecting the Bunya Nut and it was almost like a staple food I think they weren't so perishable as well, and must have been a really sort after thing if you travel that far. And I think it's a very nutritious, delicious food.
Differences between western science and knowledge and indigenous knowledge, I guess it's kind of more appreciated now that indigenous, that it is valuable, whereas I don't think it was considered valuable before it was just folktales or something, you know. But it does have a contribution to scientific research, people appreciate that now.
To continue the tour and view the next artwork by Megan Cope, select the 'Map' button on the bottom right and walk to the next artwork at Site 7 – Yunggulba. This is the last artwork in the tour. As you get within 50ms of the artwork the app will automatically unlock the next page. Keep walking until you are standing over the red pin.