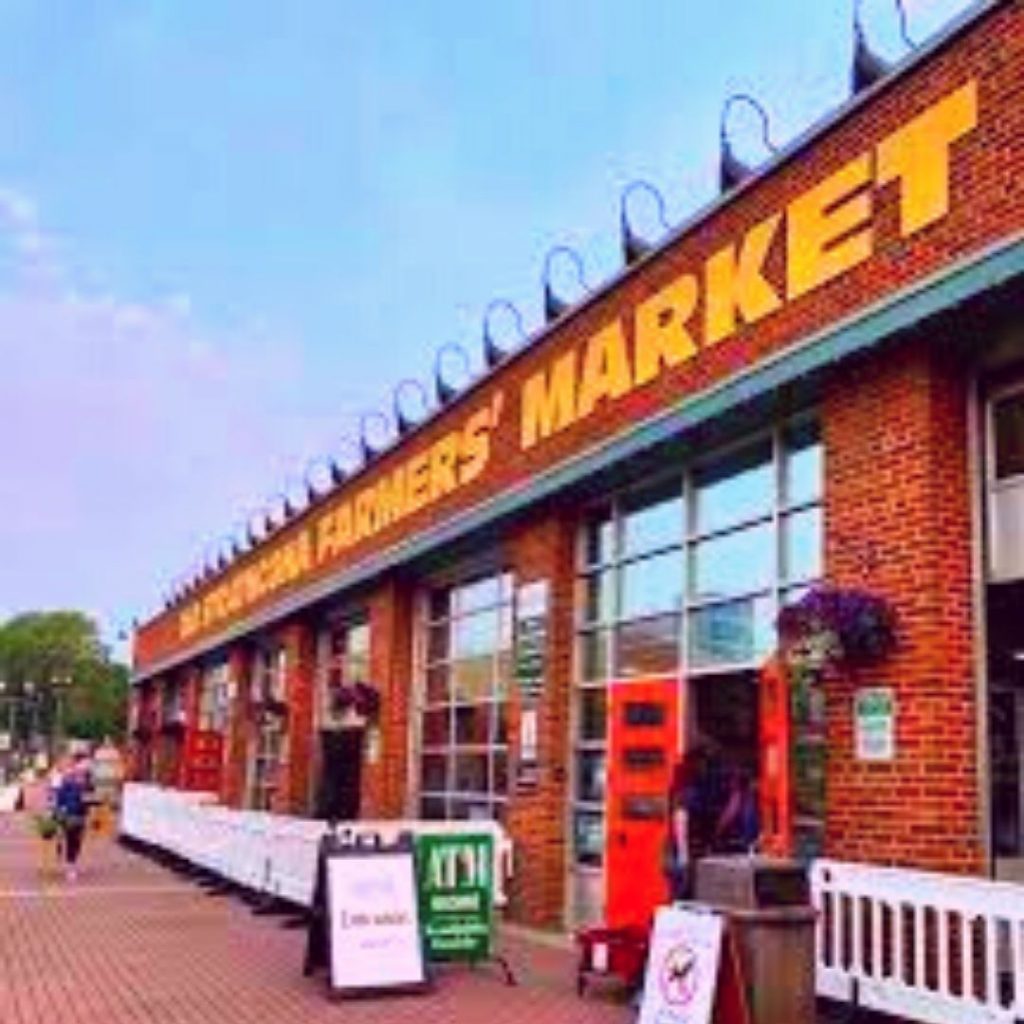 Stop 3: The Old Strathcona Farmers Market
VOICE: Here we are on the north side of 83rd Avenue between 103 and 104 Street. To the left you got your ATB Park, then if you look past the Beer Tent you got your Fireman's Memorial Statue butted up against Walterdale Theatre. And then you got the Barns be they Bus or be they Arts – an impressive structure that takes up the entire block. Way back in the middle of the Twentieth Century this building is definitely a Bus Barns for diesel, trolley what have you. And it remains that way for over three decades. Then in the mid-eighties the buses pull out for good and the Old Strathcona Farmer's Market moves in. Of course they can only utilize a portion of the building. And their neighbours across the street can't stand to see all that space going to waste. By 1986 Fringe venues crop up in various corners of the cavernous building: Bus Barns North, Bus Barns West, Bus Barns South. And there are several tiers of abandoned offices in the building too which sing their siren songs to Judy "Tyler Moore".
SOUND: THE PING OF AN IDEA BEING BORN
JUDY T M: I have an idea.
VOICE: To secure the long-term survival of the Fringe, Chinook Theatre presents a business plan to the City for a 20 year lease on half of the city owned building. The purpose of the proposal: to transform the run-down Bus Barns into a brand spanking new multi-use arts and culture centre. The City goes for it and the $1-a-year lease is signed.
SOUND: RAUCOUS CELEBRATORY MUSIC
While all this is going on, BYOVs continue to grow in popularity spreading throughout the neighbourhood and beyond.
BYOV ASIDE PART 1: Dead Slow is a stylish murder mystery performed in the Renford Inn on Whyte Parking Garage. The audience is seated in the actual garage. The actors drive in, do their scenes and drive out again. The lead actor has to learn to drive a standard and during one performance she almost backs over the audience.
BYOV ASIDE PART 2: Who can forget Confessions of a Nude Model at the Sunflower Gallery? You guessed it, our lead actor is naked. The audience is handed sketch pads and encouraged to do some sketching as the show proceeds. Back then a Fringe ticket is $7. However the programme states that if you attend this show in the nude, admission is only $1. At the time a struggling student (and future Fringe Festival Director) is strapped for cash.
He takes the discount and opts to watch the show in the buff. Talk about pulling focus from the star.
It's 1995 and Fringe Festival Director Judy "Tyler Moore" now serves as Executive Director of Programming and Development. And Chinook Theatre renames itself Fringe Theatre Adventures—
JUDY T M: "To better reflect its wide-ranging activities and adventurous spirit".
VOICE: Oh, and the Old Strathcona Bus Barns becomes the Arts Barns (at least the Fringe's half of it anyway).
Initial renovations to the Bus Barns are underway, paid for by a $100,000 provincial grant (at this point primarily upgrades for offices, heating ducts, washrooms, etc.).
FRINGE APPLICATION ASIDE: In the earliest days of the Fringe, applications are strictly first-come, first served — whatever application makes it through the door before the deadline is in. Places of origin are not really considered. Eventually it is decided that this gives local applicants an unfair advantage so a quota system is put in place. Suddenly there are limited spots available for a substantial pool of local talent. Due to this new quota system, the first overnight lineup for Fringe slots occurs in December 1993. Applicants begin lining up on a cold Sunday night in order to have their applications processed at 9 AM Monday morning. They are allowed to spend the night in the Bus Barns wash bay, huddled together for warmth (very Les Miz). The next year, the same thing only this time it's two nights. This campout becomes a regrettable but regular tradition. Until—
SOUND: OMINOUS CHORDS OF MUSIC.
Fringe applicants are forced to line up four days before applications are scheduled to be processed. An over-zealous individual pitches a tent in front of the Arts Barns in order to be first in line and no amount of discouragement will send him away. From this point on, all future Fringe applications are done via lottery.
BIZARRE ASIDE: One year a large jar is filled with Smarties to represent how many volunteers the Fringe has acquired. A hungry volunteer doing clerical work in the office opens the jar and eats all the Fringe "volunteers".
CELEBRITY NAME DROP PART 1: In the early years of the Fringe there are always Street Dances held the night before the Festival begins. Alberta's own k.d. lang headlines one of these dances. Other Street Dance performers include Moxy Fruvous, and Sarah McLachlan. One year it is announced that Crash Test Dummies will be appearing. Mistaking the early 90s rock band for the full scale anthropomorphic test devices used to measure human injuries in traffic accidents, a panic-stricken Judy Tyler Moore says, "Crash Test Dummies?! Where are we going to put them?"
CELEBRITY NAME DROP PART 2: In 1992, former A-list movie star Elliott Gould (Trapper John in the original M*A*S*H* movie and Ross and Monica's Dad on Friends) is in Edmonton appearing at the Mayfield Dinner Theatre. He spends his off-hours reading stories to children at the KidsFringe and taking in numerous Fringe plays.
CELEBRITY NAME DROP PART 3: Since we're name dropping, before he heads off to Hollywood, Nathan Fillion, star of The Rookie, Castle, and Saving Private Ryan appears in at least two Fringe plays– The Maltese Bodkin and The Reluctant Resurrection of Sherlock Holmes, then he gets the hell out of Dodge.
In 1998 Judy "Tyler Moore" tosses her hat in the air one last time and hands over the Executive Director reins to Darryl Lindenbach (henceforth referred to as Big D/Double R).
BIG D: I'm here. Let the games begin.
VOICE: In his five years with Fringe Theatre, Big D/Double R reinvents the Fringe Theatre School, reinvigorates Theatre for Young Audiences and creates Imagine, a summer arts program for youth from across Western Canada—
BIG D: Hey, what can I tell you? It's a gift.
VOICE: But renovations to the Arts Barns take up the lion's share of his time.
BIG D: The early Bus Barns were every artist's dream – a blank canvas between concrete columns. Endless opportunities for art, but it'salso endless maintenance and massively expensive too.
VOICE: In 2000 Fringe Theatre Adventures unveils its $8.5-million fundraising plans to gut the existing 49-year-old Arts Barns and replace it with a slick multipurpose community space. The plans are met with excitement and some hesitation.
BIG D: Ugh don't get me started. The naysayers are crying: "But it won't be the same if we renovate it." Meanwhile they're standing in front of massive cracks in the walls, peeling paint, leaking pipes and mounds of never ending dust.
Once the company clears the many hurdles, the long-planned renovations begin. A substantial amount of the now 51-year-old building is demolished to make way for the new theatre complex. Fringe staff box up decades of memories and relocate across town, camping out in Queen Mary Park School. The contractors have only 10 months available to complete the entire project.
BIG D: Look! There's no room for error here! We're walking on a tightrope! One slip and it's game over! Did I mention you're all doing a helluva job? Props to you.
In the late spring of 2003, the staff receive the keys to their new home: an $8.5-million theatre complex completed just in time for Attack of the Killer Fringe. New offices, studios, a shop for building sets, a spacious lobby and box office, dressing rooms and the Westbury, a new multi-form theatre make up the shiny new building.
The glass on the doors by the admin office is so pristine that a well known critic from Global TV walks right into it leaving a Shroud of Turin-like faceprint on the glass. There's shiny and then there's shiny!
With his mission accomplished Big D/Double R departs to cultivate new challenges.
BIG D: And that's what they call a wrap. Think of me, think of me fondly.
VOICE: Let's go Fringer, head north. We're going to carry on now to the Backstage Theatre. Keep walking until you come to the big alleyway to your left. Stop at the brightly coloured mural with the ghost and the candle. A beautiful piece recently painted for us by NextFest artist Haley Fortin. Are you there? Great. Press play now on Part 4.