Macquarie Street Gatehouse Info-Popup Historic Note: Macquarie Gate House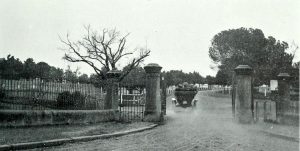 A typical example of High Victorian Gothic Architecture, the Macquarie Street Gatehouse was designed as a gatekeeper's cottage with a separate room for the use of the Parramatta Park Trust. The present house, largely constructed in 1887, was built around the original 1848 construction following the death of Lady Mary Fitzroy. Lady Mary, her husband, Governor Charles Fitzroy and Lieutenant Charles Masters were involved in a carriage accident on the way to a wedding leaving only the Governor alive and unscathed. Deeply affected by the death of his wife Sir Charles could not bear to continue using the George Street exit and so the Macquarie Street Gatehouse was erected.
A memorial obelisk exists at the site of the tree where the accident occurred.