Three Poems
By Omar Ramadan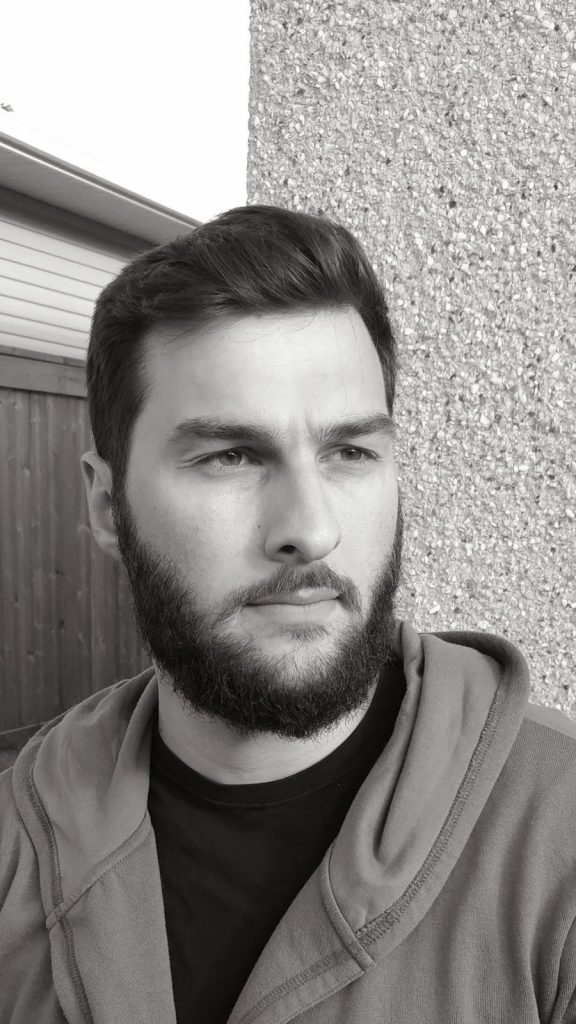 Hello! And welcome to Found Fest 2020! My name is Omar Ramadan and I will be reading three poems today from my ever-growing collection. These three are all relatively new and they document stories and things that relate to my growing up as a kid of immigrant parents and in an immigrant household and beyond that as well.
The first poem, titled Shorbet 'Adas or A Soup that Tastes like Happiness is a nostalgia piece about home and my experience of living in a crowded household.
Shorbet 'Adas or A Soup that Tastes like Happiness
It's quiet again
That childhood home
In my memory bank
Freezes
The shutter of a kodak
Snaps silence
Chaos
The sound of running feet
Down and up stairs
Through a corridor that
Never ends
Mixes
In with the dull sound of a knife
Slicing through the flesh of onion
Tears
Collide with the wails
Of passing ambulances and cop cars
Screaming bloody murder
As though they've been browned
By olive oil and flames
The kodak never stops shooting
Rolls of film empty from the cartridge
Like a magazine
Reload,
Aim,
Click
The flash holds my childhood home
Hostage; shuttered away
Buried beneath red lentils and chicken stock flavoured
Water
Running from the kitchen tap
Drowns out our voices
And my mother's smile draws us in
Her breath perfumed with cumin, turmeric, salt
The lemon juice drips from her fingers
Squeeze into our pores
And it's quiet
Again
We learn to simmer
We learn to pose for the kodak
We learn grief comes in waves
We learn home is caught in the gaps
Between our teeth
And we learn
That happiness tastes like
Red lentil soup.
My second poem is also very new. The news has been overflowing with images of protests, and said protests turning to violence due to a lot of police escalation and I wanted to write a poem about my experience as a younger me getting caught up in a protest that actually turned violent due to police escalation and it's titled Ready.
Ready
listen
can you hear it
can you feel it
it's in the air now
hanging heavy like thunder clouds
ready to rage
Listen
to sounds of triumph
of beating rotors
flying low
threatening to guillotine
buildings
Listen
batons
bashing
against
shields
sending shockwaves
through heads
dun dun
dun dun
dun dun
Listen
to that music
so sweet
of boots marching
to a beat
you only thought existed
in the imaginary
Listen
to the bones snap
sending thunder claps
hailing everywhere
turning gentle winds
into sand storms
Listen
the red iron water-fall draining down your face
involuntary war-paint
colours to make blue turn blue
and to fill air with tears
and screams and yells and pain and
when did it get so
LOUD
LISTEN
the asphalt down here tastes like salt, sand and iron
let it seep into skin
let it turn into scars so blazed
it competes with the sun –
LISTEN
LISTEN
LISTEN
Can you hear it?
Can you feel it?
It's in the air
Again.
Hanging heavy
Like thunder clouds
Ready
Ready
Ready
The last poem that I'll be reading is also new and this one is more of an allegorical piece that will be left up to you to interpret.
Sea-Water
I've forgotten how to swim
Again and it's summer
and the rains just don't
stop
the earth continues to
Rotate on some imaginary axis
made to keep us afloat
Try to keep your head above water
Try to keep your
Head
The voice calling out
Submerges my body beneath
waves and I'm
Divisible by an uncommon
denominator;
the Sea-Water here
tastes like life
knocking on some door
and you can't convince me
not to
Swallow oceans
In one
big
gulp
Let me brand this Sea-
Water across my insides
Let the salt coat my skin
Let the sun burn into my flesh
Turn scar tissue into memory tattoos
That only I can imagine
When it's summer
When it's raining
When I've forgotten
How to swim.
I hope that you enjoy the other poets' works. It's such an amazing line up at Found Fest and Dwennimen has done such an amazing job getting this line up together. I highly recommend going and checking out their work and hearing their stories and words.
That is all from my end. Stay safe out there everyone.
Salam.
---
WAYFINDING:
Head East towards 105th street and walk until you spot the Acacia Masonic Hall – walk PAST it and hang a right down the alley behind Pip, Next Act and MEAT. Walk until you reach the colourful alleyway between Glam Slam and Malt & Mortar. This is your next destination!