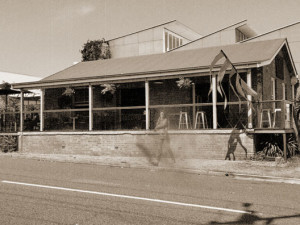 Rumour's Uncut
After weeks of research, your heart pounds with anticipation. You're the creator of a Facebook page, Rumour's Uncut, and you're in the heart of Salisbury about to embark on your latest rumour-busting quest. You're devoted to finding fact within fiction and you investigate any rumour, speculation or conspiracy theory that comes your way.
Salisbury's thriving multicultural community may breathe life into the old Rocklea Munitions factories, but behind the welcoming ambience that wafts from the kitchen of the local cafe, there's another secret to be found. Somewhere nearby, caches of ammunition were supposedly buried by soldiers during World War Two. Since you first mentioned the Salisbury rumour, your page activity has spiked to unprecedented levels. A post on Rumours Uncut revealing the location would go viral.
You take a photo of the Reload Cafe, a munitions building-turned-breakfast hub in Chrome Street then post an update to your page:
Busting rumours Salisbury-style. Arrived at Reload Cafe. Apt name.
The likes and comments are immediate. Some followers send you good luck, others ask about the cafe, and whether it's called Reload because that's where the ammunition is hidden. There's mention of maps and photographs of the Salisbury war era for customers to look at while having breakfast. But then you receive a notification that makes you fume:
Rumours Uncut De-dunked in coffee. No ammo here. Fraud.
It's from Damo54, your rival from another rumour busting page. He's posted a photo of the Reload Cafe on his page and you've been tagged. You turn around and search for him in the street, but you can't see anyone taking photos. You start to type a reply, but you pause when you glimpse a man staring at you from the other side of the street. Thinking it's Damo54, you glare at him, but then you catch your breath and nearly drop your phone.
It's a ghost of a soldier. Though nothing more than a wispy mist, it's easy to see his jungle green service uniform and slouch hat. It's not the first time you've seen a ghost when busting rumours, but you still take a deep breath to stop your heart from bursting through your chest. Raising your phone, you zoom in on the ghost and take a photo. Part of a name is stamped on his belt: Sam-B. You smile. Sam is a god-send.
Unbelievable! There's a ghost of a World War Two soldier looking right at me.
The response to your post is immediate. Some agree they can see a ghost, the slouch hat in particular. Others say the photo is a great example of bad photography. From where you stand, you see Sam clearly, but in the uploaded photo, he's blurred, like you've shot into the sun. You'll need a better photo if you want to keep your followers engaged.
But Sam moves to the centre of the road and floats down Chrome Street. At the same time, your phone beeps. You have another notification from Damo54:
Want to find that ammo? Stop chasing 'ghosts' and start searching. How about it Rumours Uncut? Race you to it?
You're infuriated by Damo54's attempt to steal the limelight, but you're also worried. Damo54 has tagged his location as being on Evans Road. It runs through the heart of the munitions factories. If he has found the location of the buried ammunition, he'll show you up.
You need to make a decision. Do you:
Salisbury RSL Memorial Park: You follow the ghost. Damo54 may say he knows the location of the buried ammunition, but you think he's full of it. If anyone knows the true whereabouts it will be a ghost of a soldier. Walk north along Chrome Street, turn left into Commerce Street. Continue to the northern end of the Salisbury RSL Memorial Park, opposite the food co-op.
OR
To Fool A Glass Eye: You accept Damo54's challenge. You can't risk damage to Rumours Uncut's credibility if he finds the ammo before you. With Damo54's last post saying he's on Evans Road, you head in that direction. Walk south along Chrome Street, turn left into Industries Road, then left onto Evans Road. Continue to the traffic lights on the corner of Tarragindi Road and Evans Road.