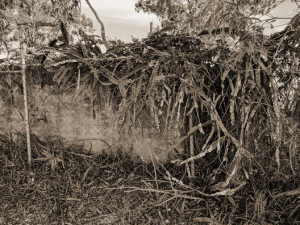 Air Raid Bunker
You didn't find an entry into the factory but you can't believe what you see. Right in front of you, behind a high mesh fence topped with strands of barbed wire, is an intact air raid bunker. How many people have driven past this block of cement and not realised what it is? And even better, Damo54 is nowhere in sight. You've trumped him at his own game.
Fingers trembling with excitement, you take some photos and update your status:
Hit the jackpot. Air raid bunker at the edge of an abandoned military factory. Where are you Damo54? Lost?
Your post is an instant success. Hundreds of comments pour in. One follower asks if the ammunition is inside. You doubt it, but that comment stirs your post further:
Dare you to go inside the bunker, Rumours Uncut. Jump the fence.
Dare or no dare, you won't trespass on military grounds. But you wouldn't put it past Damo54. Wondering if he's hiding inside the bunker, you step up to the fence. But as you peer through the open door, you're grabbed from behind.
"I'm not lost," Damo54 says, clamping his hand over your mouth. "But you will be."
You struggle, but he's stronger than you. He drags you to the fence, kicks through a split in the mesh and hauls you into the military grounds.
"What are doing?" you say.
"Getting you out of my way," he says.
He wrestles you to the door of the bunker then shoves you inside and slams the door shut. You pound on the door with your fists.
"Let me out."
"Not a chance," Damo54 says. He laughs. "Enjoy your lodgings. I've got some ammunition to find."
You've been tricked. You type a comment into your last post to alert your followers, but the cement walls of the bunker are too thick and you can't get a signal. Shoving the phone in your pocket, you pound on the door again.
"Help," you call. "Can anybody hear me? I'm stuck inside the bunker."
All you do is bruise your hands. You're in the most abandoned part of the Rocklea Munitions site. Who's going to hear you? Your only hope is that one of your followers thinks you accepted that dare. When you're not heard from, somebody might think to come and find you.
END