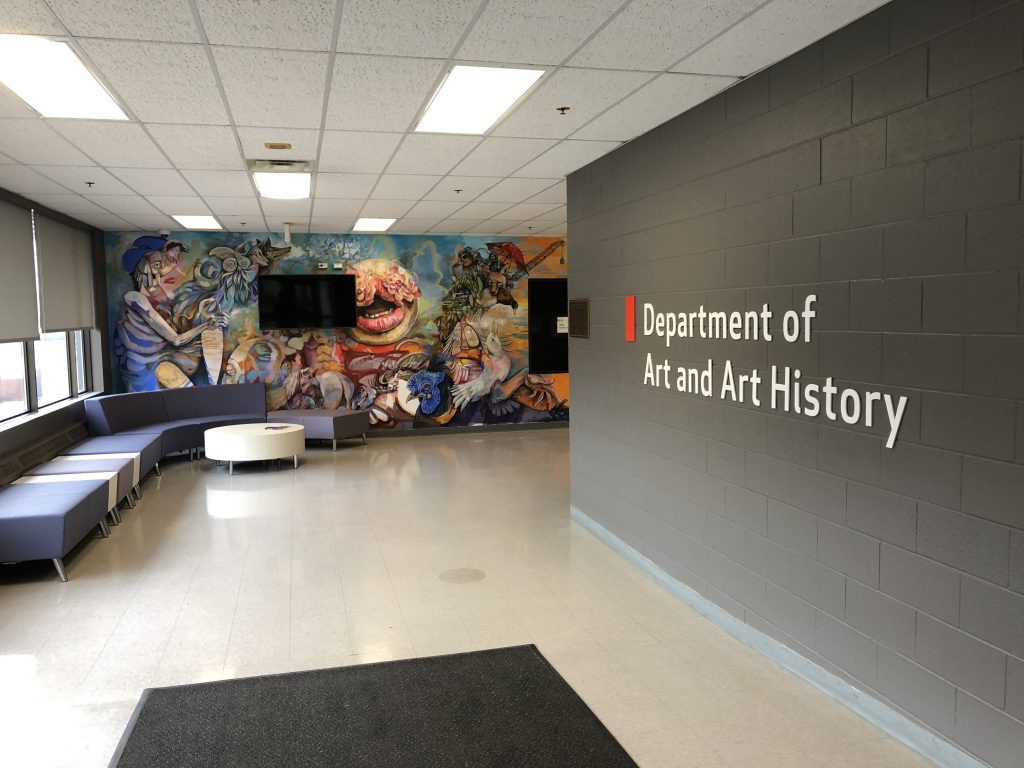 Department of Art and Art History Galleries
Where can I find it?
Past the Stantec Gallery, follow the path until you see a set of stairs (surrounded by lockers on both sides), and then go down. Side note: close by is the Faculty of Nursing, where the Nursing Student Lounge is (as mentioned in the "Study Spaces" tour). From the stairs, go straight ahead, and continue until you can only either turn left or right. Turn left and walk along the hallway until you reach Tim Hortons (which will be on your left). Another side note: straight ahead, then turning left, up two sets of stairs is the Faculty of Law, where the Bennett Jones Library is, and a floor above is the Law Student Lounge (also mentioned in the "Study Spaces" tour).
Facing Tims, exit the doors on the left, onto another set of stairs, and you will be close to a road. Turn right, with the road to your left. As you move forward, the tall building slightly to your left (with a +15 bridge connecting it to the building on the right, Craigie Hall) is the Arts parkade, and the department will be at the top floor. Cross the pedestrian lane (underneath said +15 bridge) leading to it to enter the parkade and access its elevators.
---
Check out student and faculty art exhibitions at the four unique galleries across campus. Galleries include the Little Gallery at the entrance to the 6th floor in the Department of Art and Art History space above the Arts Parkade, the Mezzanine Gallery by the University Theatres, the 621 Gallery (also above the Arts Parkade) and the 100 Gallery, a space within the Taylor Institute for Teaching and Learning.