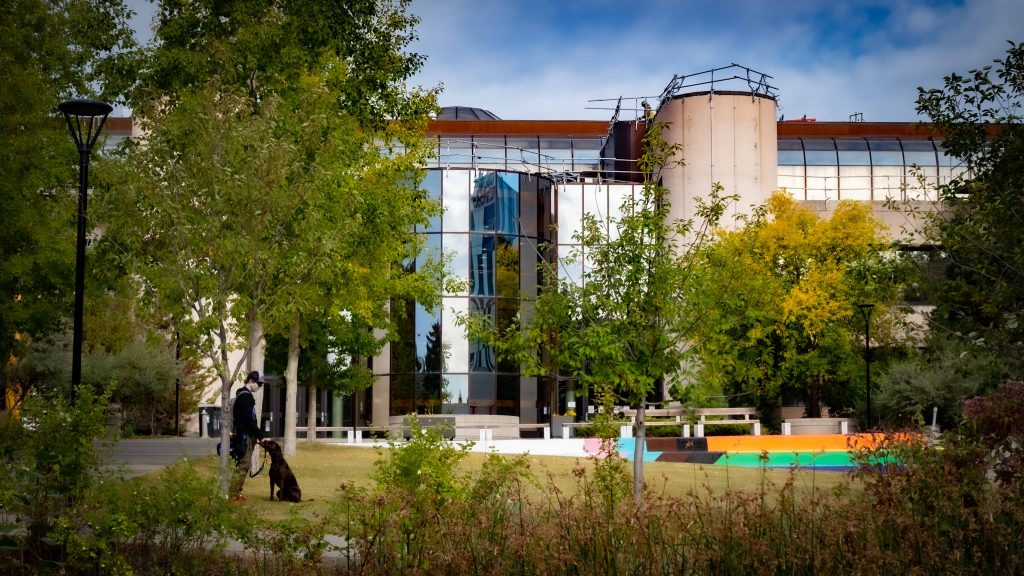 Taylor Quad/The Bear/TFDL 1st-3rd Floors
Taylor Quad
Where can I find it?
From the KNES Rock, take the path that leads to Kinesiology A (KNA); if you're facing the long and wide pathway (which leads to the Olympic Oval), the path leading to KNA will be on your left. The doors leading outside to the Taylor Quad are close to the Active Living Desk. The Quad is that large green/yellow/orange/white space (depending on the season) between Kinesiology A and the Taylor Family Digital Library (TFDL), which will be the building you see right across the Quad.
---
From Spring through to Fall, the Taylor Quad is where many official student and campus events take place. From fundraisers, de-stress initiatives and summer camp for kids, to orientation related programming and rallies, the quad is one of the busiest outdoor spaces on campus, and therefore a great area to attract participation, or just meet friends and eat your lunch.
The Bear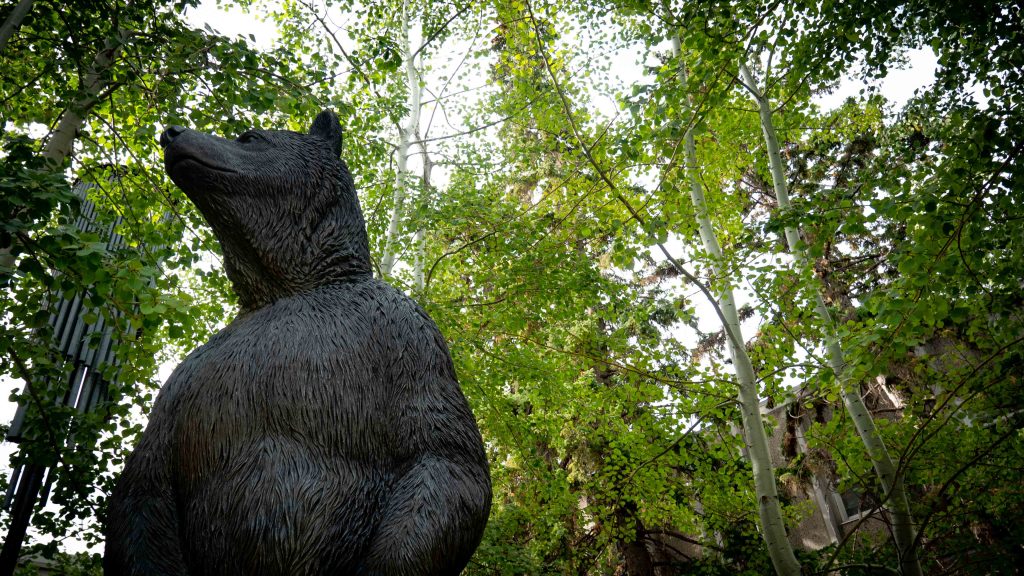 Where can I find it?
After you go through the Quad, before you enter TFDL, the unnamed bear and "Nirvana" will be to your right. The building behind our friend is Craigie Hall G, which houses the University Theatre.
---
Standing proudly close to the west side of the Taylor Family Digital Library (TFDL) building is an 11-foot bronze bear, aptly surrounded by trees. It was created by Brian Cooley, and later donated to the university by Don and Ruth Taylor, the namesake of the library close by. The space itself has seats for a moment of relaxation under the shade of both structure and nature, and if the weather's just right, you can also de-stress with the wind chime sounds of the kinetic art piece "Nirvana," made by Steve Heimbecker, that accompany our silent but almost realistic friend.
Taylor Family Digital Library 1st-3rd Floors
Where can I find it?
The Taylor Family Digital Library is the large glass building in the middle of campus. The west entrance looks toward the Quad and Kinesiology A, and the east entrance opens out toward the new and glass building that is the MacKimmie Tower.
You may see students studying on these floors, and while it's not impossible to do it with earphones, you will find that the first three floors of the Taylor Family Digital Library (TFDL) are better meant for collaboration, group work (whether productive or not at all), and hanging out. Just like how every good house party eventually ends up in the kitchen, TFDL also provides the three S's of a good time: Sustenance, Seating, and Social Opportunity. No "shhh"s in this part of the library, but please do be respectful of others' space and time; it still is a library and people would want an environment where they can focus. We should also remind you that hot food must only be consumed at the first floor.