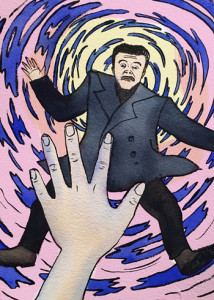 Wait on the jetty. Near the second bench.
Those are the only instructions that The Firm sent you; an exclusive invitation to become an agent for the mysterious organisation. Your first mission: rendezvous with your Handler on Grange jetty in Adelaide.
But who are The Firm? And what are they really after?
You now find yourself at the centre of a high-stakes game that will decide the fate of the planet. Search for hidden treasure, face down dangerous enemies and–if you can–avoid becoming the victim of "fowl" play.
Only YOU can unravel The Firm's true motivations. But will you expose the mystery, or become just another pawn in the grand conspiracy taking place on the streets of Grange?
RATING: PG 13
Starting Location: GRANGE JETTY in the Adelaide suburb of Grange
Story: Michael Hand
Illustrations: Amanda Ng
Music: Paul Attanasio
Narration: Kevin Powe

Story City: Grange was produced with the assistance of