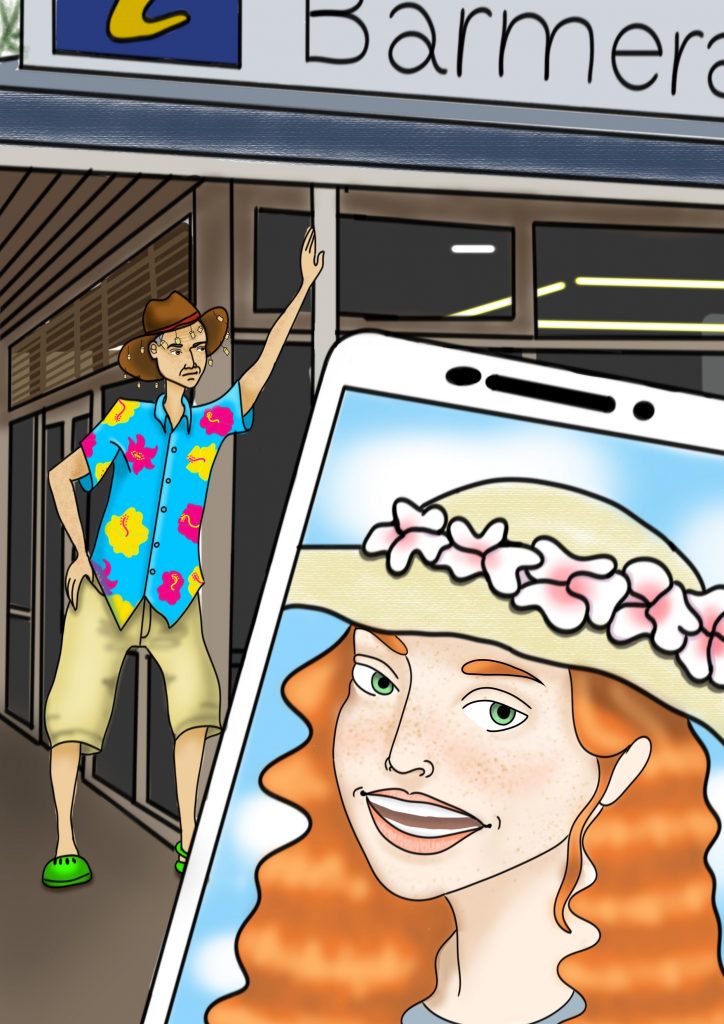 Information Centre
Barmera seems like a quiet, ordinary town. There's an Information Centre in front of you and a curving silver sculpture in the middle of the roundabout to the right. The wide streets and old buildings make the place feel settled and calm. It looks like the last place for an alien phenomenon.
Your new communicator badge beeps with an incoming message. It's your boss – Commander Oppenheimer from the Australian Extra-terrestrial Protection Agency.
"Welcome to your first mission," crackles the Commander's deep voice. "Three days ago a meteorite crashed on the shore of Lake Bonney. Now, one of the local residents has died in mysterious circumstances."
"What happened?" you ask.
An image appears on your screen of a smiling, red-haired woman wearing a hat covered in bright pink flowers.
"Dawn Edwards was a local artist. She didn't have many relatives – just an estranged sister. She became paranoid in the week before her death. She tried to set fire to a church and then barricaded herself in her home. The last anyone heard from her was in a message left at the local radio station two days ago."
Dawn Edwards' voice crackles over the speaker. "Listen! People in this town are being replaced! They don't sleep, there's something wrong with their eyes, they're becoming zombies! They tried to get me to join them… They're going to strike in 48 hours–"
The Commander continues: "She was found yesterday morning underneath the clock tower. Her body was mummified, shrivelled up like a prune. The case shows similarities to an outbreak of alien parasites we saw a few years back, but some aspects don't fit, so it could also be a new sort of weapon. Whatever it is, we need to stop it. Dawn's time limit is almost upon us, there's only 4 hours left."
"Yes, sir," you reply. Your first mission and it's a doozy.
"One of our senior investigators, Agent Lang, will assist you. He's retiring soon but he agreed to one last mission. Good luck."
As the transmission ends, an older man approaches you from across the street. He's not hard to miss – he's wearing the loudest Hawaiian shirt you've ever seen, cargo shorts, bright green crocs, and wraparound sunnies. The ensemble is topped off with an Akubra hat with corks swinging from the brim.
"G'day," he says, through a mouthful of pastry. It looks like vanilla slice.
"…Are you Agent Lang?" you ask. "You're not in uniform."
Lang winks. "Sometimes it helps to blend in with the locals." You're not sure which locals he's blending in with, but you suppose that they're more likely to notice the loud shirt before they notice the badge. "So you're the newbie." He holds out a paper bag. "Cop some of this, mate. Best vanilla slice in the Riverland."
"Uh… Maybe later."
"So, first mission in the decision hot-seat. Where to?" he asks.
Do you:
Clock Tower: Explore the area where they found Dawn's body? What was so important to search for she left her homemade barricade? You cross Pascoe Terrace to the Theatre and go downhill along the main street of Barmera, until you can see the clock tower in the centre. Cross the road safely to the tower.
OR
Anglican Church: Go to the funeral at the local Anglican Church? Odds are you'll find some of the people Dawn thought were 'replaced'. You follow Fowler Street to the right, uphill, then cross Langdon Terrace, and then cross Fowler Street to the Anglican church on the other side.