Did you accidentally trigger the wrong location? Never fear, if you've decided to consult with the Freemasons, continue to follow the map to KS9 to continue your chosen adventure.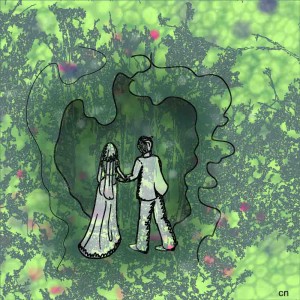 The Goat Track
The locals call this path the Goat Track. Before the steps were cut, it was a roughly hewn track that required the agility of a mountain goat to navigate. It's a common route for people making their way between the heights of the terrace and Lovers Walk. As you stand at the mouth of the track, ready to begin your ascent, you feel a familiar sensation overcome you. You're having a vision. Better hold onto the rail to keep steady.
In your vision, it's twilight. In the milky glow, you see a recently wed couple standing outside the church, waving farewell to their departing guests. You recognise Clara, and her strapping groom must be Captain William Hunter. As the last carriage drives away, you see William and Clara sneak over towards the track. You can tell they're exhausted and relieved to be away from the crowd.
'This climb will ruin my dress,' Clara teases William, as they begin to make their way up the cliff.
'The view is worth it, trust me,' William says. 'I don't want my first dance as your husband to be in that hall tonight with dozens of people watching. I want our own secret dance, up here, first.'
William and Clara continue their scramble up the Goat Track, and your vision fades, leaving you standing in the real world once more. You understand now the moment you need to recreate, in order to reunite the two lovers—the scene of their first dance on the cliff-top.
In your trunk full of ghost-hunting goods and tools, you happen to have two small instruments. They came to your aid during the undead masquerade ball at the Town Hall last year. What type of song are you going to choose to recreate William and Clara's first dance?
Do you select:
The Outlook – Piccolo: A traditional wedding waltz, using the piccolo? Head on up the Goat Track to the lookout on the cliffs, and play the audio.
Or
The Outlook – Tin Whistle: A jolly sea shanty, to fit in with Captain Hunter's maritime background, using the tin whistle? Head on up the Goat Track to the lookout on the cliffs, and play the audio.