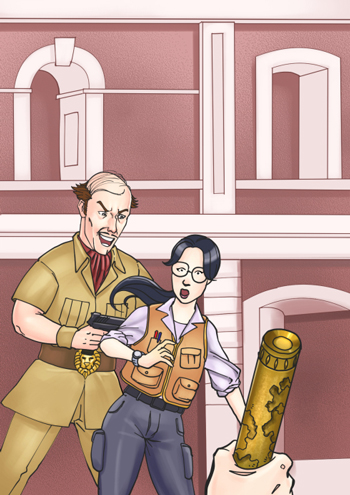 The Union Hotel
The Union Hotel is old. You run your hands over the beautiful white quoin-work surrounding the doors and archways. The building is solid, but plain, the only external ornamentation a stained-glass window with a tiger. Your heart sinks when you realise there isn't a foundation stone like you found at the Post Office.
"So tell me about this Percy Graves," you say while you search.
"Percy stole my map and beat me to a secret tomb in Nepal once," Rhonda sighs. "He cleaned the place out."
"Don't worry," you say. "We won't let him get this treasure."
"There must be something else in this riddle." Rhonda looks over the paper you found.
You tap at the walls with a pick, looking for loose stones, but find nothing. Then you remember. "It said the first step… that's it!"
You examine the old doorstep and see immediately the same mortar you found at the Post Office. After chipping it away, you push the stone slab to one side, and in a hollow underneath, you find another copper cylinder, this one green with age. Another yellowed piece of paper slides out into your palm:
HER MAJESTY'S MAN TURNS FROM COMMERCE
AND MAKES SAIL FOR A DISTANT SHORE
YOUR NEXT STAGE IS TO SEEK OUT THE ARCH
AND YOU SHALL SEARCH NO MORE
Rhonda taps a finger to her chin. "Her Majesty's Man, the stage, and the arch – the obvious solution is to search Her Majesty's Theatre. But this Secret Society of Colonel Light seems to use double meanings."
"And the sail?" you ask, wiping the dust from your hands. "No sailors in a theatre."
"If we take into account the turning from commerce, and sailing clue… It could refer to the old Royal Admiral Hotel. It was originally called the Commercial Hotel."
"It's the Dog and Duck these days," you say.
It's then you hear an ominous click, and Rhonda's mouth falls open. You look up to see Percy Graves, pointing a pistol at you. He keeps the gun close to his side, so no one passing by notices.
"Hand it over," he snarls, leaving you no choice but to give him the clue. He smirks as he scans the text, jamming it into his pocket.
"Did you realise that the owner of the Union Hotel used to keep a Bengal tiger caged in the back room, letting patrons view it for sixpence? Fitting, I suppose, that you're now my captives, except that I intend on making far more than sixpence off you two."
"Now tell me where you think the treasure is," he says, stepping in close to Rhonda. He pokes the barrel of the gun into her ribs, and she turns white.
Do you:
The Dog and Duck Hotel [125 Hindley St]: Assume the Secret Society will continue the double-meaning trend? Take your search to the Dog and Duck Hotel on Hindley Street. Head east to Topham Mall, turn left to head north until you reach Hindley Street.
Or
Her Majesty's Theatre [58 Grote St]: Go with the more obvious answer? Search Her Majesty's Theatre on Grote Street. Head south towards Grote St. Your destination is on the corner of Grote and Pitt Streets.