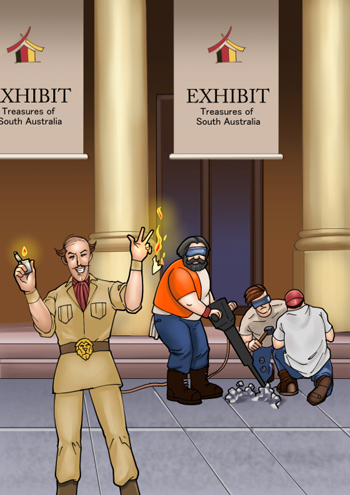 Art Gallery of South Australia
You approach the Art Gallery, digging equipment in hand. The building is simply magnificent, a classical style that makes it look like an ancient temple. You almost feel guilty for wanting to hack at those perfect columns, but where there's treasure to be found…
Then you see it. The right-hand column has been damaged, with dust and shards of stone littered in all directions. A pack of workers are already packing up their equipment – fat jack-hammers and even some blasting equipment. It's a miracle the whole front of the building hasn't come down!
Stepping out from the pillars is none other than Percy Graves, who looks up at you with a smirk. Even as you step towards him, he holds aloft a piece of paper. The next clue! He flips open an old cigarette lighter, and sets the parchment on fire.
"You monster!" you shout out. Before you get too close, his crew of cronies crowd around you, cracking their knuckles and laughing.
"You've lost," Percy says. "Go home while you still can. It's time for the real treasure-hunters to get to work."
You're outnumbered, and have no chance but to watch Percy and his gang drive off to the next destination. Rhonda sits down on the ground with frustration, head in her hands. It looks like your journey's come to an end…
"Wait," you hear someone say behind you. A man is climbing out of a taxi, and you recognise him from the coffee-shop. It's the well-dressed gent with the handlebar moustache.
"It appears that somebody got here first," he says.
"Thanks, Mr Obvious," Rhonda scoffs.
"What if I were to tell you that I know what that clue said, word for word?" the man says quietly. "I'm…I'm not meant to help you, but I think you're looking for Light's treasure for the right reasons."
"Who are you?" you ask, but he holds his hands up for silence.
THE MASON'S CRAFT WAS LONG AND TRUE
FOR THE STONE OF THE ELDEST SON
THE PILLAR OF EMPIRE YOU MUST PURSUE
IF THE STATE'S TREASURES ARE TO BE WON
"What does that mean?" you ask as he finishes.
"I can confirm there is a treasure of gold, but that's not the only prize Light left behind. A man's reputation is worth more than gold."
With no other explanation, the man bows, and climbs back into his taxi.
Rhonda frowns as she finishes scribbling down the clue. "Again, with the double meanings. The Mason's craft, and another reference to a pillar. I think there's something hidden in the Freemason's Hall! Freemasonry is full of references to pillars."
"Yeah, but what about 'The stone of the eldest son' and 'Pillar of empire'?" you say. "I remember there's a statue of King Edward VII just down the road from here." You consult your phone, and hold it up with triumph. "Says here he was the first son of Queen Victoria and Prince Albert. They're equal options."
Whichever way you decide, you'd better do it quick; Percy is ahead of you.
Do you:
Statue of King Edward VII [North Terrace]: Go to the statue of King Edward VII? Head west along North Terrace until you reach the corner of North Terrace and Kintore Avenue.
Or
Freemason's Hall [North Terrace]: Go to Freemason's Hall? Head east along North Terrace. Freemason's Hall is on the southern side of North Terrace, past Pulteney Street.