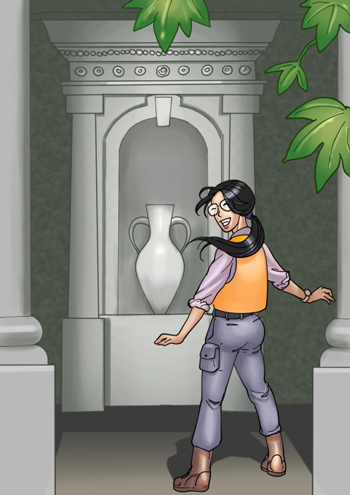 Parliament House
Narrowly avoiding a tram, you cross over to Parliament House, a grand building of columns, faced in a classical style.
You search the pillar on the right of the front steps, and spot a tiny crack in the base. One side is a false panel made of granite, and Rhonda gently teases it loose. Climbing into the hollow at the bottom, you wave your flashlight around and find…a pair of slender granite vases with handles.
"What are these?" you ask. "Not much of a clue…"
"They are amphorae," Rhonda says. "An old type of jug, the Romans used them to store wine or olive oil."
They are heavy, and it takes a lot of effort to haul them out of their hiding place. When you set them upright, you notice they are each marked with a single word. One is PROMISE, the other FULFILMENT. There is nothing else down there.
You're starting to wonder whether this is a dead end when you notice the empty niches to either side of the front door of Parliament House. They are marked "The Promise" and "The Fulfilment", and describe how the colony of South Australia was promised a constitution and the right to self-govern.
"Quick, help me, Rhonda!" You heave the vases into their respective niches, and when they are both in place, you hear a faint click!
The Fulfilment panel swings open, revealing a hollow in the stone-work. Inside is another copper cylinder, and you toss it to Rhonda.
She reads it out:
THE ELDER GAVE A ROTUND GIFT
TO HONOUR OUR ENDURANCE
TO THE COLONY ACROSS THE SEA
WITH MUTUAL ASSURANCE
"Hmm. That could mean the Elder Park Rotunda," Rhonda says. "But Colony…mutual assurance? It may mean the old Colonial Mutual Life Assurance building. It's the Mayfair Hotel now."
Suddenly a car pulls up in a screech of tires, and the doors fly open. It's Percy Graves, and this time he's got company – three scary looking individuals with trouble written all over their faces. Thinking fast, you snatch the clue from Rhonda, and stuff it in your mouth. You get a short-lived thrill of satisfaction as you swallow.
"Do you think that's going to stop me?" Percy clicks his fingers. One of his goons steps forward and there is the hiss of a switchblade being bared.
"What was on that piece of paper? Maybe my friend should open you up so I can have a look for myself."
"It was another riddle," you say and, in a trembling voice, immediately recite a false verse, made up on the spot:
THOUGH BRITANNIA'S THIRST
SENT YOU ADELAIDE BOUND
SEARCH YE THE SITE
AND THEN SEARCH ALL A-ROUND
"Of course!" Percy says. "Boys, we'll start the dig at the Britannia roundabout on the outskirts of the city. See you later, losers."
They push you aside, then pile back into their car, leaving with a roar of noise. You're shaking all over, and can't believe the bluff worked! You'd better move fast, before he finds out that you've tricked him.
Do you:
Elder Park Rotunda [Elder Park]: Decide the 'Rotund gift' is the important clue? Go to the Elder Park Rotunda. Head downhill along King William Street until you reach Elder Park.
Or
Mayfair Hotel [Cnr King William/Hindley]: Decide a foundation stone is more likely found in a building rather than a park? Try the old Colonial Mutual Life Assurance building. Cross North Terrace and head south along King William Street. The Mayfair Hotel is on the corner of Hindley St.