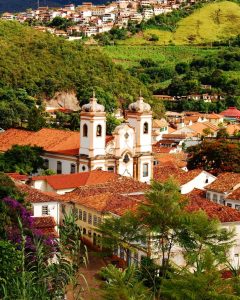 Welcome to Story City's free walking tour of Ouro Preto. In this tour not only will you hear the history of this UNESCO World Heritage Site, but we will be revealing local stories and urban legends you would never find in a guide book that involve rebellion, hidden treasure, heroic slaves, breathtaking artwork and gold heists. You will be guided by local Ouro Preto storyteller, and owner of Chico Preto Hostel, Marcelo Mortimer, who has lived here for over 30 years.
The tour should take you between 1hr to 1.5hrs and will visit 10 unmissable locations in Ouro Preto town including: Museum de Inconfidencia, Casa Dos Contos,Igreja de Nossa Senhora do Rosario, Igreja Matriz Nossa Senhora do Pilar, Igreja do Sao Francisco de Assis, the Oratory of the Vira Saia and many more!
If you don't have mobile data in Brazil, you can pre-download this tour via Wi-Fi using the information below.
This tour starts in Ouro Preto's main square, Praça Tiradentes. The tour was created in partnership with Marcelo Mortimer and the Chico Preto Hostel.
Photographs: Emily Craven & Joshua Logan
Narration: Marcelo Mortimer & Emily Craven
Information
Make sure you wear walking shoes with a solid tread as 90% of Ouro Preto is walking up or down a hill. Bring plenty of water and a spare jacket (it does get cool here!). Earphones will give you the best experience listening to the audio.
Ouro Preto is one of the safest cities in Brazil, but as with all Latin American destinations do keep an eye on your surroundings, make sure any cameras are on straps across your body, and don't keep your phone loose in a pocket – always keep a hand on your device during the tour or store it in a place that is not easy to pickpocket.
If you do not have mobile data, you can pre-download this story on your phone via Wi-Fi before you leave your hostel. To do this follow the below instructions:
To pre-download the story go back to the story list and selected the 'Config' tab. Turn on the 'Download Media at Start of Adventure' option (the square will be red when turned on).
Go back to the 'List' tab and select The Urban Legends of Ouro Preto adventure.
Then, at your home before you come on your adventure press the 'Start' button below. It should take around 30mins-1hr to download the files to your adventure.
Note: Keep the app open to retain the files. If you select 'End' on the adventure it will wipe what you have downloaded, so don't 'end' the adventure until after you've completed it!