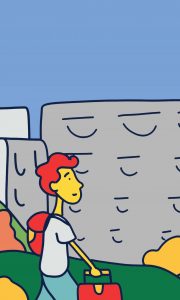 New to Campus? Want to learn how to navigate your way around buildings before classes start? Explore the UofA and the history behind its diverse buildings.
Welcome to BaseCamp Orientation, the University of Alberta's first-year orientation program specifically designed for students in residence. BaseCamp gives you access to resources, experiences and learning opportunities to help you transition into university and get settled all before classes begin! During this tour, you will walk around campus and learn interesting facts that you can share with the friends you will meet when school begins. Take the time to ask questions and hopefully, you will enrich your knowledge about your beautiful campus.
We will start in front of Thelma Chalifoux Hall.
Rated: M15+
Time: 65mins
Author: University of Alberta Residence Services
Presented By: The University of Alberta Residence Service