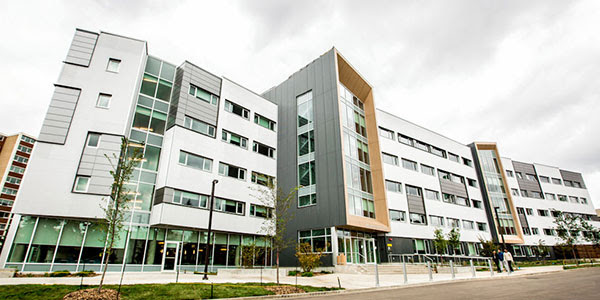 Basecamp Welcome: Thelma Chalifoux Hall
Welcome to residence at the University of Alberta! On this walk, we're going to introduce you to the important landmarks of your new home. With North Campus covering about 50 city blocks, and being home to around 150 buildings things may seem confusing at first. We assure you it's not once you know how to get around! Let's begin by understanding the land that we are standing on. UAlberta North Campus, and actually all of Edmonton, is located on Treaty 6 territory. You'll hear this being said a lot throughout your time on campus, but what does this actually mean? Well…
"The University of Alberta is home to a diverse and welcoming community of over 1,300 Indigenous students from across the country, and Edmonton has the second-largest Indigenous population of any city in Canada. We celebrate our Indigenous heritage, including the ancestral lands on which our university is located today.[…] [Therefore,] The University of Alberta respectfully acknowledges that we are located on Treaty 6 territory, a traditional gathering place for diverse Indigenous peoples including the Cree, Blackfoot, Métis, Nakota Sioux, Iroquois, Dene, Ojibway/ Saulteaux/Anishinaabe, Inuit, and many others whose histories, languages, and cultures continue to influence our vibrant community" (University of Alberta).
The building you're standing next to is named after one of the indigenous people that has made astounding impacts on our community. UAlberta's newest residence building, "Thelma Chalifoux Hall is named in honour of the Métis activist and former Canadian senator. The Honourable Dr. Thelma J. Chalifoux was born in Calgary in 1929, and she spent much of her life in Alberta. She was highly regarded as a Metis elder and educator, and in the late 1970s, she was the first Métis woman to serve in the Senate at the University of Alberta. She went on to become the first Métis woman named to the Canadian Senate. Always active in her community, she founded Michif Cultural Connections, an organization dedicated to preserving Métis culture. She touched innumerable lives before passing away in 2017 and her legacy lives on through the work of the now named Michif Cultural Connections Company as well as through her large family.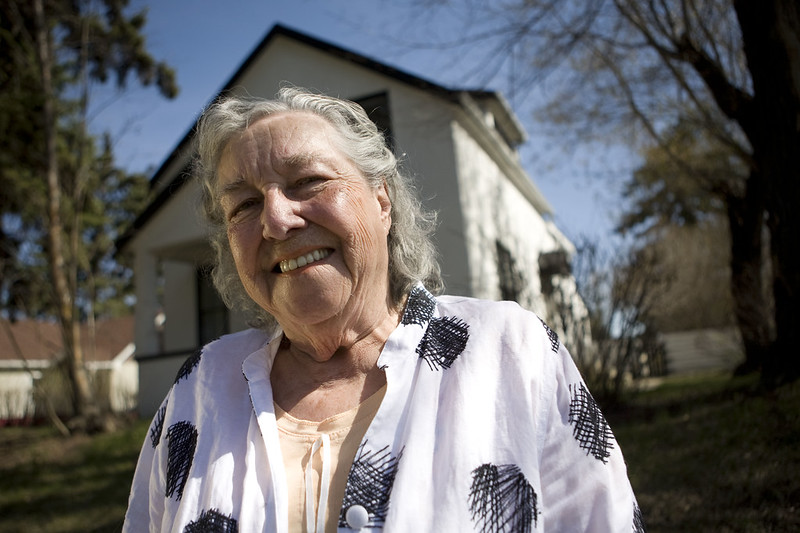 Dr Thelma J. Chalifoux
Thelma Chalfoux's daughter, Rheanna Sand, hopes that the hall isn't just about legacy, but provides a place for you to belong. She says, "I hope that Thelma Chalifoux Hall is a place where new students can feel at home, find friendship and a quiet place to reflect and dream of what's possible. She would want all new students to remember their roots but to move forward and rise to the challenge of the first year. After that, the future awaits". Feel free to check out more about Thelma in the plaque installed nearby when you have some extra time! It's important to reflect on the history and impact of this tower's name. It is equally important to pronounce the name of the tower correctly: "Thelma Chalifoux Hall"
Let's make our way to the next stop which is located behind that fascinating tower with purple screens. Follow the walkway that will lead you to a courtyard that faces the back of the lister dining hall. Refer to google maps if you are lost.
Now listen up folks, whilst walking around and enriching your knowledge about your campus is great… having a little … incentive to complete this never hurt anyone. Yes if you guessed it, there is a prize at the end of this walk but how do you win this mysterious prize hmmm? Click the Google link in the Story City app at the bottom of the page before you head to your next stop. Answer the trivia questions correctly (either during or after the tour) to get a chance to win!