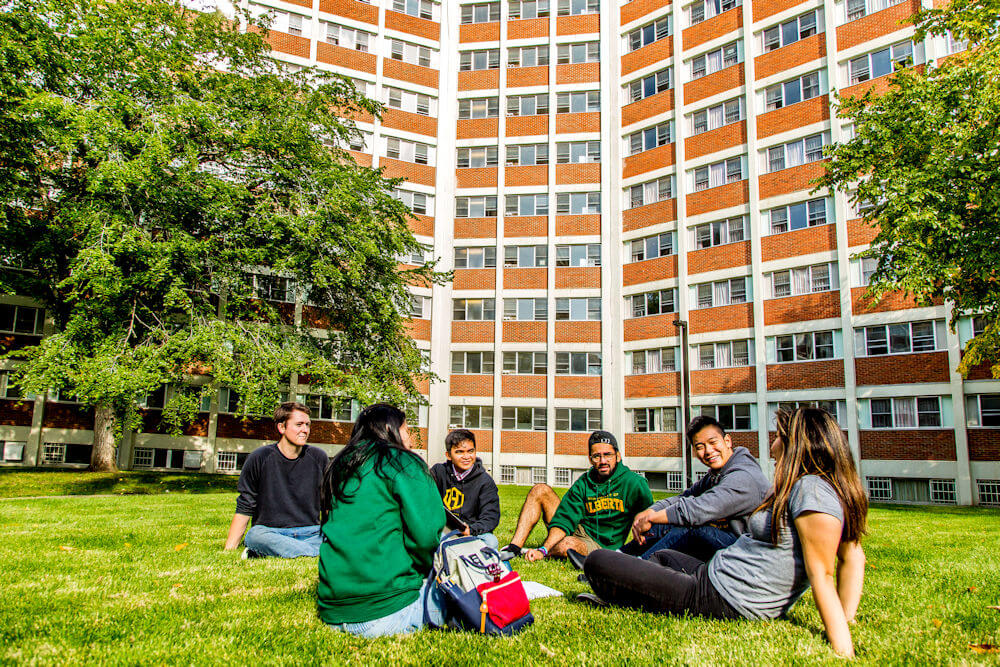 Stop 2: Lister Courtyard
Now, Thelma Chalifoux Hall is not the only building in Lister Residence. The four towers you can see from where you're standing right now are all buildings that makeup Lister. You are standing in the Lister Courtyard, a place where you can hang out with friends on the patio and easily access the other residence towers. If you stand facing the towers, from left to right you will see Henday Hall, Mackenzie Hall, Kelsey Hall, and Schaffer Hall. If you ask your student leaders, they may have a unique story of the towers. So what are you waiting for? Ask them to see if they have a favourite crazy memory to share!
If you live in a Residence, then you have access to all of these buildings, so make sure to check out the unique spaces when you have time. Lister Courtyard also has designated smoking areas. Take a few moments to spot them as we get on our way.
To get out of the courtyard, continue following this path until you make a right. Now, go North on 117th street and turn right onto 87th Ave. At the next traffic light, cross 87 Avenue and head North on 116th street. Turn right onto 89 Ave and keep an eye out for our next location, called SUB. It will be on your left! Remember, throughout this walk, you can always use Maps to help guide you.
Once you begin classes and as assignments start rolling in you're going to find yourself studying and probably needing a snack or two to keep your gears running. Well, as you walk to your next location look to the left across 87Av and 117th street and there's your answer, Circle K. It is a 24hr convenience store and steps away from residence. You can find everything from snacks to basic groceries, batteries and phone chargers. Convenient, right?