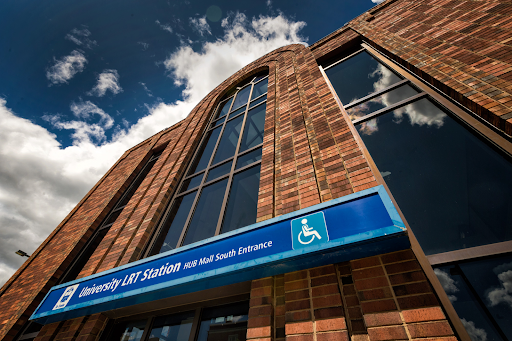 Stop 7: University Bus Loop
Aah, the University Bus Loop. All journeys start here well they kind of do when you think about it. If you ever need to catch a bus to West Edmonton Mall or Whyte Avenue this is where you need to be. The University Bus Loop is the primary hub for transit on campus. And guess what? Transit cost is included with your UPass for students for the semesters you're in class. Make sure to check your google maps before you hop on to one of those bad bois because getting lost in the beautiful city of Edmonton can wind up being a whole new story.
If you look around you, you will also notice two access points to the LRT Station that is below the campus. We will talk more about those stations as we get closer to the end of our walk. So let's follow the route a bus would use to get here.
Continue down this road as if you are walking to SUB then turn left when you see the administration building. You need to find that big yellow building that you've been seeing everywhere.