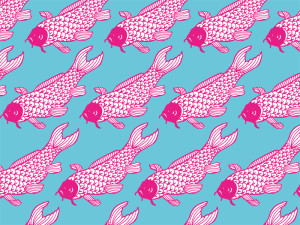 This is a self-guided audio tour of Weaving Our Heritage, an art installation in Eagle Lane, Brisbane.
Experience the vivid patterns of Asia in Weaving Our Heritage, an outdoor visual street art installation by Brisbane-based artists who draw on decorative traditions and their cultural connections. Vanghoua Anthony Vue explores his Hmong heritage through the use of vibrant tape works and neon symbols, and Elysha Rei (Gould) brings intricate paper cuts and paste-ups that are inspired by her Japanese ancestry.
Start your tour at the paved area outside the Coop and Detox Cafes.
For more information on BrisAsia Festival visit:

Artist: Elysha Rei (Gould)
Artist: Vanghoua Anthony Vue
Curator: Kerry Turnbull, Engage Arts
INSTRUCTIONS
This story will provide the art tour in Eagle Lane Brisbane CBD.
Use care when in Eagle Lane as it is open to traffic throughout the exhibition. Always check for traffic, do not stand in the middle of the road and look in both directions for vehicles:
Stop, Look, Listen, and Think before you cross the road.
This is a temporary art installation on display from 7-21 February 2016 for the BrisAsia Festival.
After the display is removed, you can still use the App as a digital display only (works will not be at the location).
We recommend that you pre-download the content before heading to Eagle Lane as mobile data signal strength varies depending on your mobile carrier. You will still need mobile data to view the videos. If you don't pre-download you can still do the tour using your mobile data. To pre-download:
Go back to the main list,
select the 'Config' tab and turn on the 'Download at start of adventure' option (square will be red when on).
Also turn off 'Navigate by GPS' (square will be grey when off).
Go back to the main list, open Weaving our Heritage. Make sure you are connected to your WiFi and select 'Start' to begin downloading files.
Once in the lane, open the Weaving our Heritage story and select 'Start'. You can move between screens and art pieces by tapping on the hyperlinks at the bottom of each screen. You can also use the Audio button to listen to the artists talking about their work and influences.
An initiative of