See how the artists installed the artwork on the location.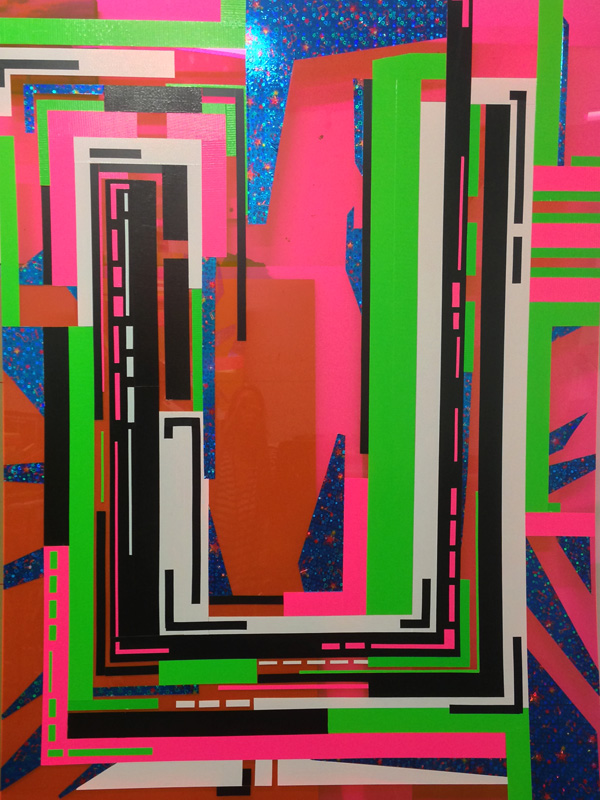 Artist: Vanghoua Anthony Vue (Au Hmoob Zi – Aus Hmong Si, 2015. Work in progress detail of one of six panel tape work).
Click the Audio button to hear the artist talk about the influences behind this art piece.
Adapting Systems
Within these dynamic high-contrast designs artist Vue displays language systems. The history of the Hmong people means that Hmong culture and language has voyaged with the movements of Hmong to many countries around the globe including Australia and the United States.
This work is a combination and translation between Hmong and English language and between the writing systems of Roman Phonetic Alphabet, Pahawh and Qauv Ntaub Qauv Ntawv. Au Zi is the Roman Phonetic Alphabet translation of Aussie. Hmong here is written in Pahawh. The position of this phrase suggests a converging of identities, which is neither separate from one another nor coherently enmeshed.
Work Title: Vanghoua Anthony Vue, Au Hmoob Zi (Aus Hmong Si), 2016.
Materials: Acrylic sheets, duct tape, cloth tape, contact paper.
Travel further along the same wall, until you arrive at number #82. Here you can find one of Vue's works, '1995-2016'. Click here once you have come to the next artwork.