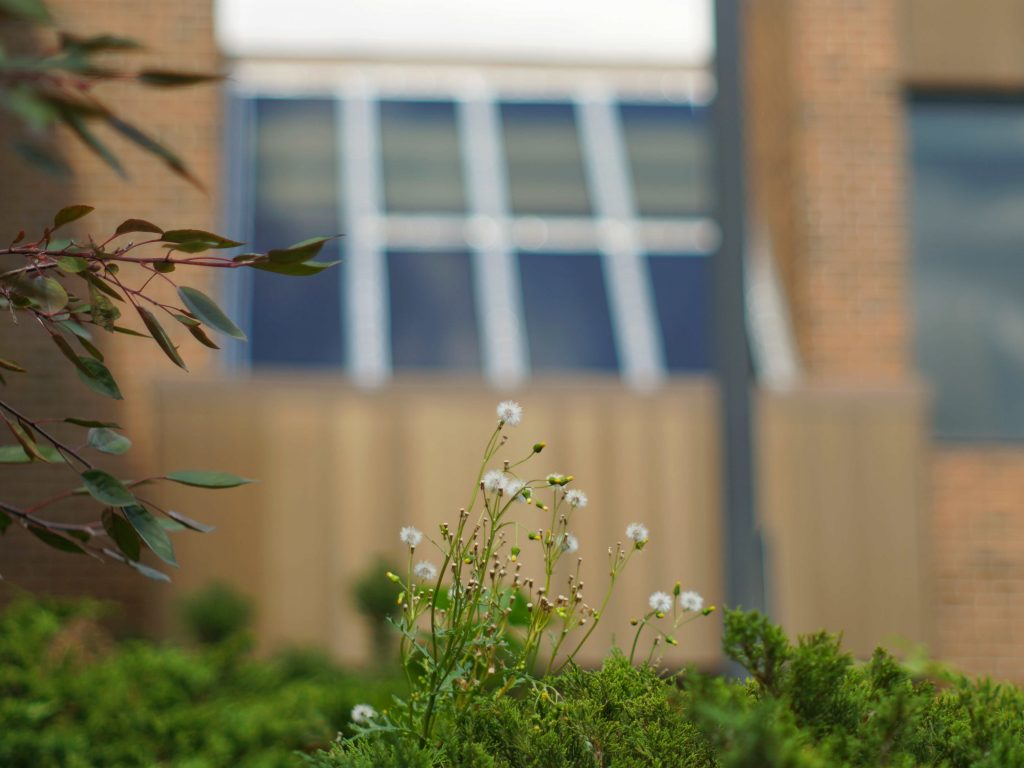 Children, Family, and Community Service
You are now situated along 146th street in Grovenor, a centrally located neighbourhood experiencing a redevelopment boom. As you look down the leafy streets and avenues that make up Grovenor, try to note the different housing types that you have seen. Crossing 149th street, the contrast between the low-rise apartment buildings and one storey bungalows to the West and the large, modern detached homes and townhouses to the East is hard to ignore. New to the Grovenor area is the proliferation of subdivided lots and infills, a development that has caused much controversy among families and individuals that have called this area home since the mid 20th century. Settled residents may feel fearful of being pushed out of this community, though this may not have been the intention with these new developments.
Standing in front of you now is the wood-clad Catholic Social Services buildings, one of several such buildings located throughout Central Alberta. Founded in 1961 by the Archdiocese of Edmonton, the organization arose as a response to pressing social needs of that time. As poverty and homelessness have become more pervasive in our city, so has the organization's reach throughout the community, with over 120 programs and services offered today. These programs range from family supports, community outreach, disability services, and immigration and settlement services. The mission statement of Catholic Social Services is "we are guided by faith to care for and bring hope to people in need with humility, compassion and respect", and they achieve this mission by non-judgementally catering to the diverse holistic needs of people of all faiths, as well as those that do not belong to a faith community.
Of particular interest for us today is the organization's focus on working with immigrants and new Canadians. Between 2019 – 2020, the Catholic Social Services has served 14246 immigrants and refugees in Edmonton. As many newcomers can testify, settling into Canadian life involves navigating a complex system of government supports and social norms, and because of this, immigrants and refugees are at a high risk of falling into poverty and homelessness if they do not receive the help they need. From language supports to employment counselling, organizations like Catholic Social Services help provide a leg up to those looking to become self-sufficient members of Canadian society. I encourage you to think about how you can aid your new Canadian neighbours in this quest, and I invite you consider how immigrants help to provide vitality and enrichment to our city.
Make your way back to 149th street, turn right onto 102 Ave, and then turn right onto 150 street.
And with that we come to the end of our walk. Take a moment to reflect on everything you have seen and learned today. Did you see anything that scared you or shocked you? Why do you think this is? What is an idea you had about unhoused people or those living in poverty that you have felt being challenged today? We invite you to ponder these questions, and we hope that you take something away from this experience that will help you see our city and its inhabitants differently.
If you would like to learn more about the work of The Mustard Seed, please visit our website – www.theseed.ca.
If you are interested in learning more about how you can be a part of our volunteer team, please call our Community Support Centre – 780.426.5600, or click the Volunteer Link below. And if you would like to financially support to the work of The Mustard Seed, you can do that via the Donation Link below.
Thank you again, and remember, just as a tiny mustard seed grows into a flourishing tree, a small act of kindness can make a huge difference!