Strathcona Farmers Market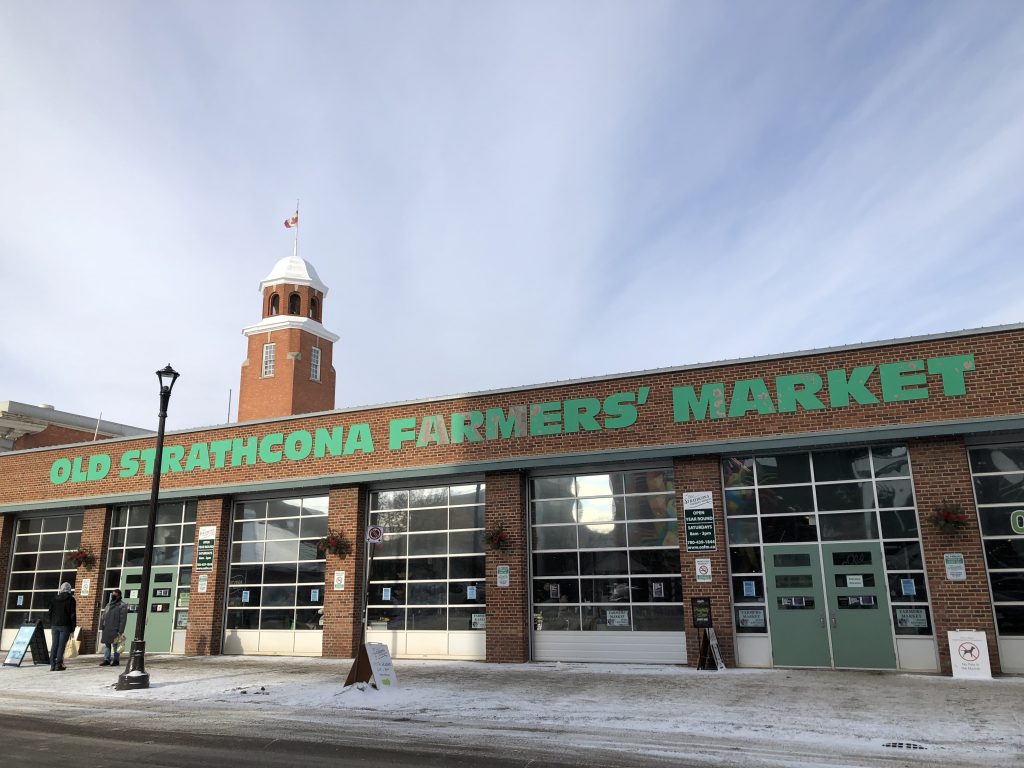 Let's stop at the corner of 102nd St and 83rd Ave for a couple of minutes and look to your left, west, across the parking lot.
The historical brick building on the north corner of 83rd Ave is Strathcona Fire Hall No.1. Built between 1909 and 1910, Edmonton's first fire hall is also the oldest major fire hall in Alberta. Today it is the home of The Strathcona Farmer's Market. Edmonton's only year-round indoor market opened in 1983, and offers only locally-grown produce, specialty foods and hand-made arts and crafts every Saturday. The Market has a lively, fun and friendly community feel, with buskers playing various instruments and many regular customers returning each week to visit their favourite vendors. The community ethos of the Market extends beyond its walls, however.
If you look just one block south of the Farmer's Market, you will see El Cortez Mexican Kitchen and Tequila Bar, one of Edmonton's most popular Mexican restaurants. In May of 2019, the owner of El Cortez teamed up with seven vendors from the Market to present Feast With Our Neighbours, a truly unique charity event in support of The Mustard Seed. Hosted by The Neighbour Centre and located in the Market space, the feast brought together invited guests, our neighbours on the street, and those living in poverty for a special meal prepared by Edmonton's finest chefs.
In October of 2019, the Market partnered with MEAT Authentic Southern BBQ (located just one block west on Calgary Trail) in presenting The Neighbour's Gratitude Fundraiser Dinner to help increase awareness about homelessness in Edmonton and foster community support for the first emergency shelter in south Edmonton. Held at the market, guests were treated to delicious food prepared by MEAT and served by volunteers who have experienced poverty and homelessness firsthand.
We are deeply grateful for the support of businesses like The Edmonton Farmer's Market, El Cortez and MEAT. If you haven't already, plan a Saturday morning trip to the Market or a great dinner out and meet some wonderful people!
Alright, let's continue north along 102nd St. toward Saskatchewan Drive, and our beautiful river valley, where you will come to your next stop, by the old CP rail train and a lovely outlook deck at the end of the park. Do you think you could sleep outside in the river valley during winter?