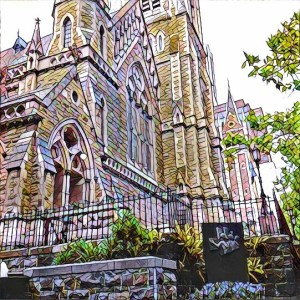 Scot's Church
As you approach Scot's Church, you hear massive bangs and crashes. Statues, ornate doors and gargoyles have come alive and are running all over Collins Street. Crossing the road from St Michael's, you dodge not one, but two stone lions. Basanti leaps ten feet in the air to avoid a red modern art monstrosity and lands on her back.
Basanti wails in pain. "My death is near."
"Come on," you say, pulling her up. You put an arm around her waist and she limps towards Scot's Church.
"Always with the melodrama," huffs Belinda, overtaking you.
The statues and gargoyles are destroying everything in their way: parked cars, trees, even the footpath and fences. People are hurrying to shelter inside Scot's Church. You can feel your heart thudding harder against your ribcage. Will the city survive this mayhem?
"I can hear the Spirit of Love. It's saying it's too weak to come out of the statue because it's been trapped for too long," says Basanti.
"Just reassure it," you say.
"The problem is if a spirit of a city doesn't think it can do something, it can't. That's the way city spirits work. We'll have to heal it, gently, like a mother would bandage a child's wound," says Bano. "But we need to move all the people away first, so she can hear us clearly."
"The nagada," you remind Bano.
"I need to sit," moans Basanti, hobbling to a pew.
You stand at the door of the church facing Collins Street, twisting and stretching your arms in preparation. As soon as Bano conjures the drum you start striking it with all the strength you have. The clamour is unbearable, even for yourself, but you know that your city depends on it. People begin running out of the church. You feel a sharp pain rise from the depths of your gut, and it shoots through your eyes and your ears, but you keep playing until the whole church is empty except for you and the sages.
"Hop on one leg three times while touching the door. Then meet us outside at the stone slab with the image of Jesus etched on it," says Belinda as she slams the door shut.
As soon as you hop thrice, you turn towards the street, exit the gate of the church, turn right, and walk along the church building to find a stone slab. It is etched with the image of Jesus and two other men, and the words, "Jesus speaks to the good thief."
That's when you hear the beautiful, soothing sounds of Bano playing the flute, and it puts you in a trance-like state. You can feel your pain healing. The melody is so calming it has put Basanti to sleep – she is slumped against the fountain snoring. You are exhausted, too, and want to drift off.
"The Spirit is speaking. It's no longer fatigued; it feels strong enough to come out," says Belinda.
You shake Basanti awake and pull her to her feet.
Bano throws the flute onto the grass and you all join hands. "May the love of everything that nurtures the city never leave. May the love of everything that nurtures every heart never leave. May the love of everything that defeats terror and pain never leave," you chant, over and over, until an eerie silence spreads through the streets.
You feel someone tap on your shoulder. It is an old woman with wrinkly skin and liquid eyes. She holds your hand gently and presses it in hers. Her fingers are spindly and yet her touch is filled with warmth. You are overcome with a feeling of safety and security.
"I am the Spirit of Love. I am as old as the earth and sky and as real," she says, smiling.
The Spirit of Love embraces you and walks away into the crowd.
It is then you notice people are hugging each other on the street and, rather than being destructive, the statues are licking people and giving them rides. You stare, incredulous.
"I can hear the Spirit of Adventure calling. It is in a statue of famous explorers somewhere thereabouts," says Belinda, pointing further along Collins Street.
"Of course!" you say. "There's a statue of Melbourne's greatest explorers just up the road. Brave folks who laid their lives at the altar of discovery and adventure. They travelled more than 2000 miles with little or no help along the way."
"Right, ahead ahoy!" says Bano
Basanti leans on you heavily, limping along Collins Street. You are thankful that it is only one block to the Burke and Wills statue at the intersection of Swanston Street and Collins Street.