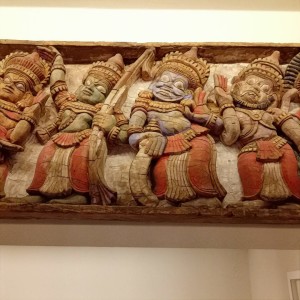 State Library of Victoria
A wide set of stone stairs rises up before you, leading up to a portico marked by eight magnificent pillars. You marvel at the neoclassical façade of the State Library of Victoria, inside of which is one of Australia's most extensive collections of books, archives and artworks. It is this library that helped Melbourne to become a UNESCO City of Literature.
You and Saloni have spent hundreds of hours here, exploring the archives to piece together associations between India and Australia during the late 19th and early 20th centuries. Together, you learnt of India's participation in the Melbourne International Exhibition of 1880–81, and the spectacular artefacts that had been brought to Melbourne during and after the exhibition.
The latter had really incensed Saloni. She had railed against the plunder of Indian art during colonial times. On the sloping lawns outside the library, you and Saloni had engaged in heated arguments – you proposing forgiveness for historical wrongs, she insisting on reparations for colonial crimes.
And now, both of you were caught in a vortex of madness, the way out of which lay in your solving a puzzle set on the grounds of the State Library of Victoria.
Show us where 63 bricks carry joys of learning
Find one and leave no more questions burning.
What is made of brick? Not the library – that was built out of carved stone. Not the staircase. Not the portico.
You see people lounging on lawns – reading, talking, eating, catching a nap. And statues. Standing proud on the staircase to the library are three massive statues. First is that of Sir Redmond Barry QC, the inaugural chancellor of the University of Melbourne and one of the instigators of the building of the library. Behind him are two equestrian statues. One is St George slaying the dragon, the other is that of Joan of Arc. Between them are two giant floor chessboards with waist high pieces.
You decide to explore the green lawns to the right of the stairway, because that's where you and Saloni would sit during your lunchbreaks.
At first, nothing grabs yours attention. Then, a half-human, half-animal creature hidden in the foliage catches your eye. It is a children's book character: The Bunyip, from The Bunyip of Berkley's Creek. You are caught by the charm of the statue – but it doesn't help you solve the riddle.
You look around. There are definitely are no other statues – but you notice something in an odd curved-shaped. You go up to it and examine it closely.
This is it! Joys, learning, bricks – its all there!
You take a picture and publish it on your social media page. Re-entering the Story City app, you scroll down to the bottom of the page and press the red button…