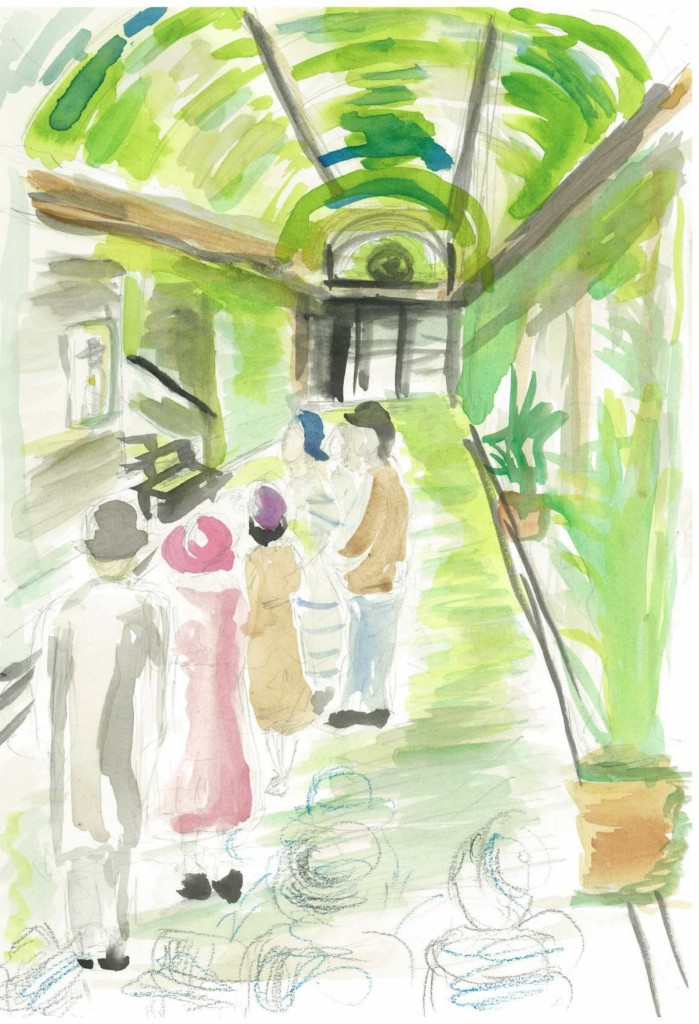 Cathedral Arcade
The ground floor of Cathedral Arcade is rather ordinary looking except for its vaulted, flower-patterned stained-glass ceiling. Your informant, "Hat and Glasses", as you privately think of them, appears beside you and you jump.
"Well?" you ask and then sigh as they begin to recite again.
In the tale Ramayana the lines are clear
Evil is there, good is here
But what of Maricha the Magician
And what of The Golden Deer?
"Can't you speak normally?" you say, crossly. "I don't know anything about the story of the Ramayana. And where does The Golden Deer come into it?"
They shake their head, as if to say that they're incapable of normal speech.
"Please – I need you to tell me exactly what you know," you implore, reaching over to put a hand on their shoulder. That makes them start and dart away, up a set of stairs a little further down on your left. You follow them, but the stairs begin to shake and you yelp. What's happening now? You stumble to the bottom of the stairs, and find the arcade has changed. The shopfronts are picturesque glass, the floor gleams. Men and women in vintage clothes – women in fur coats and cloches, men in slouchy hats and suits – walk by. Their eyes slide past you; it's as if they can't see you. A number of them stop and look at a poster on the wall near the stairs, murmuring.
"I thought he had left Melbourne!" a woman exclaims.
Your head whips around when a man says, "Well, I'm not going. You never know what will happen at one of Maricha the Magician's performances!"
"That's exactly why I'm going!" a woman in thick pearls, presumably his wife, says as she nods excitedly. You push your way in front of the poster, and nobody seems to feel or see you. You find yourself looking at a garishly coloured poster of a brown-skinned man in a fedora. He's wearing a golden deer pin and a mysterious smile.
Back in Melbourne, it's Maricha the Magician! Cheap seats available. Enter an amazing world of sorcery! Tickets at the box office.
"There's something not quite right, something strange about those foreign chaps," the same man grumbles behind you.
"For heaven's sake, Robert – it's 1945, not 1845! And we could use a distraction," his wife snaps.
1945! Fear churns your belly. How did you go back in time? What has Hat and Glasses done?
Two other women come to stand on either side of you, looking up at the poster. Out of the corner of your eye you can see gold flashing from their coats. Golden deer pins – like the one Ram was looking for; like the one Maricha wears in the poster!
They don't speak, but turn and slip away together, huddling close as if for comfort.
You look after them and then at the poster.
"The show starts in half an hour, Robert," the woman says. "I'm going even if you aren't. There are cheap seats."
Do you:
Block Arcade: Follow the women so you can ask them about the pins – it's twice now that Hat and Glasses has mentioned The Golden Deer – and figure out what they know about Maricha? Walk up Swanston Street towards Collins Street, and turn left onto Collins. The women end up outside Block Arcade.
OR
The Golden Deer: Go to the performance at the Regent Theatre to see if you can question Maricha the Magician – when else are you going to get the chance to question the dead victim of a murder? That is, if it's the same Maricha. He must be remarkably well-preserved if he is – he would have to be around one hundred years old! So you walk up Swanston Street, turn right onto Collins and turn right again to get to Regent Place.