San Francisco's Chinatown is part of Chinese-American history. Look at the city's skyline, hear the stories and walk the streets on this self-guided walking tour through San Francisco's Chinatown based on the critically-acclaimed podcast '99% Invisible'.
---
Listening to the 99% Invisible Podcast (99pi) can be cathartic. Narrated by Roman Mars' smooth baritone voice, 99pi explores the beauty around us by interpreting the chaos we have created. (On a side note, if you're interested in fun facts that you can pull out at parties, this is definitely the podcast for you!) From architecture to design and modern life in general, the 99pi team expertly unpacks stories of the past and present to shine a light on this human-driven world we have created for ourselves – one that we live in, but often don't know much about.
Launched in 2010 as a one-man show produced in a bedroom (as so many of the best podcasts are!), 99pi has become one of the world's most popular podcasts. With 460 weekly episodes and counting , each episode is accompanied by a print companion piece in case you're not a fan of simply listening to a podcast.
99pi got us thinking about the world around us so we turned Episode 192, Pagodas and Dragon Gates into a walking experience that explores the architecture and history of San Francisco's Chinatown.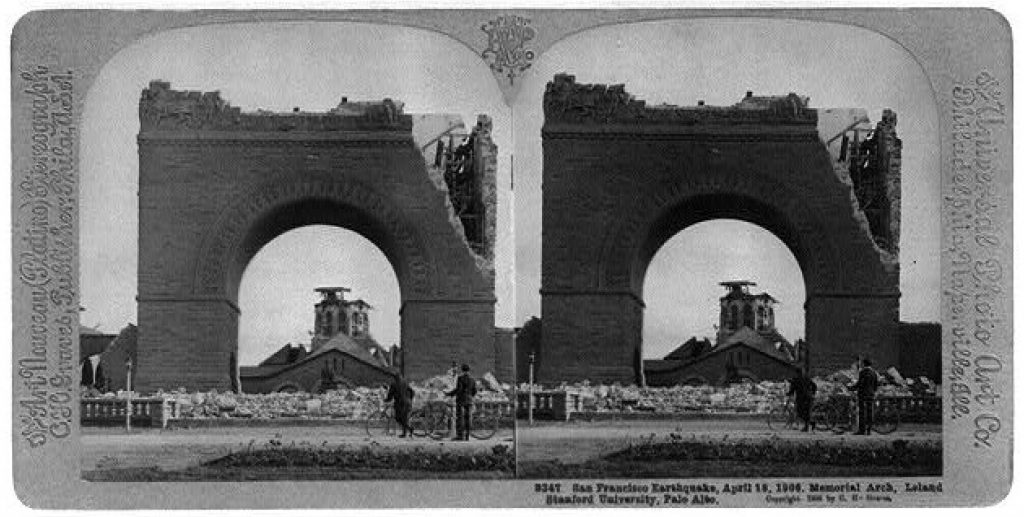 The North American Chinatown aesthetic is known for its pagoda roofs and dragon gates, looking nothing like the architecture in China. Chinatown in San Francisco has a dark past – it burned down before it was built up how we see it today. This 1-mile, self-guided walking experience will take you up to 2 hours (it all depends on how detail-oriented you want to be!). Are you ready to explore San Francisco's Chinatown and see it in ways you never thought possible?
What you will need
Refreshments — why not try the local dim sum?
Location 1: Dragon Gate
Location: Grant Ave
Episode Timestamp: 0:00
At the entrance to Chinatown, crossing through the Dragon Gate transports you into the incredible sights and culture of San Francisco's Chinatown. Many major cities in North America share similar architectural aesthetics within their Chinatown communities. Most Chinese immigrants who come to the city with the hope of a better life find that Chinatown's architecture does not reflect the architecture and design in China – it feels foreign to them.
Are you ready to explore the interesting and complex origin story behind not only this aesthetic, but also the strained cultural and economic history? Join us at the next location where we'll hear about what Chinatown used to look like and the struggles of those who lived there.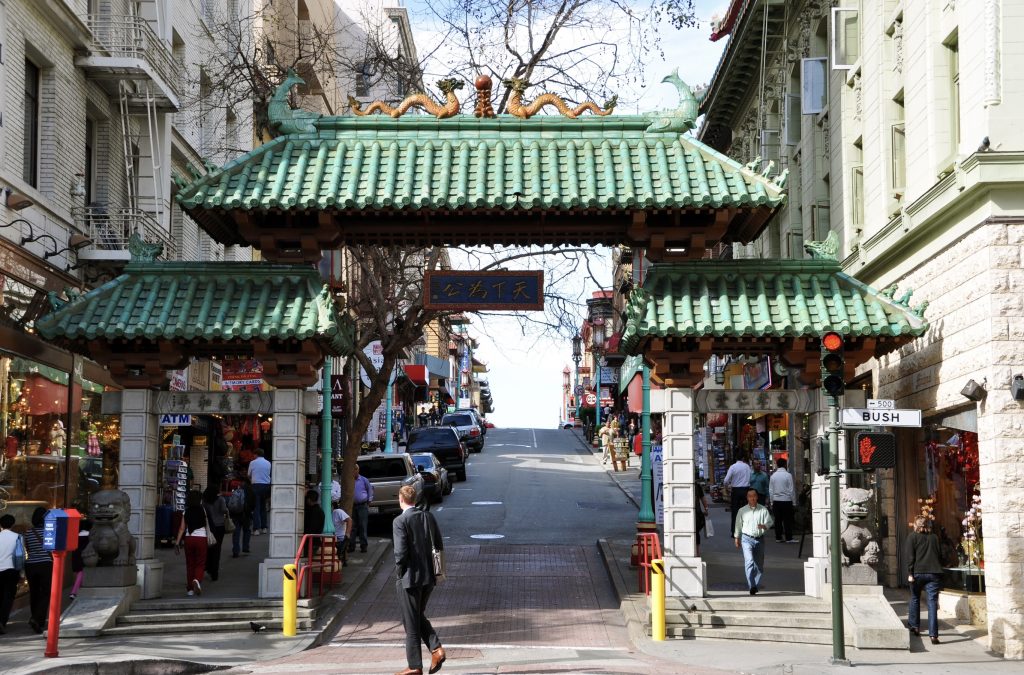 Location 2: Kearny Street via Pine Street
Location: Kearny Street
Episode Timestamp: 1:30
In 1906, a massive earthquake leveled San Francisco. Chinatown was always a desperately needed refuge for Chinese immigrants, but one that was almost like a prison – they could not set foot outside of the 15-square block area unless they wanted to risk physical violence. On the edge of Chinatown, where you are now, you can still see buildings that look like Chinatown would have looked before the earthquake of 1906 – rows of brick buildings accentuated with Victorian Italianate facades.
Follow us to our next location in Portsmouth Square, also known as the "Heart of Chinatown" to learn about the devastation after the earthquake.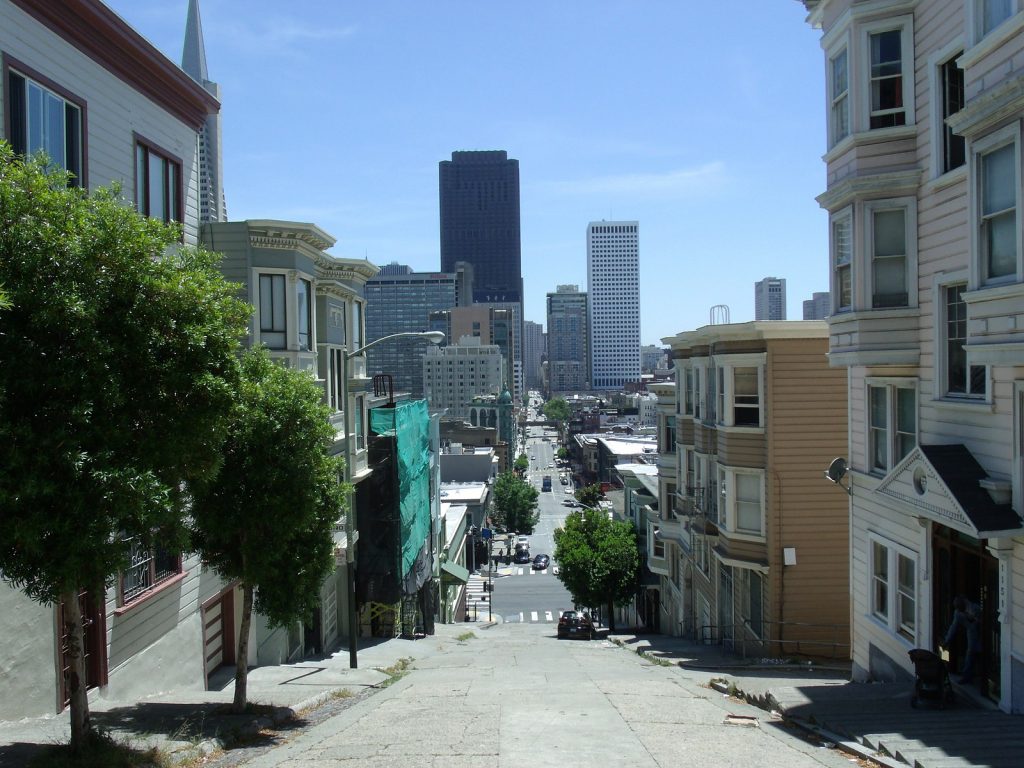 Location 3: Portsmouth Square
Location: Portsmouth Square
Episode Timestamp: 4:20
Early in the morning of April 18, 1906, San Franciscans woke up to a 7.8 magnitude earthquake – the biggest in the city's recorded history. Shattered gas mains eventually led to massive fires that lasted for 3 days and destroyed about 500 city blocks – including Chinatown. The Chinese people in the city's Chinatown were left to fend for themselves. Water was even diverted to surrounding elite, predominantly white, neighbourhoods making the situation in Chinatown even more desperate. Even worse, the fire department used the wrong type of dynamite while trying to demolish buildings to control the fire and Chinatown burned even faster.
Many of the city's political and business leaders were excited that Chinatown was eliminated and had no plans to rebuild.
Follow us to the next location, where we'll find out about how Chinese-Americans were almost forced to leave San Francisco.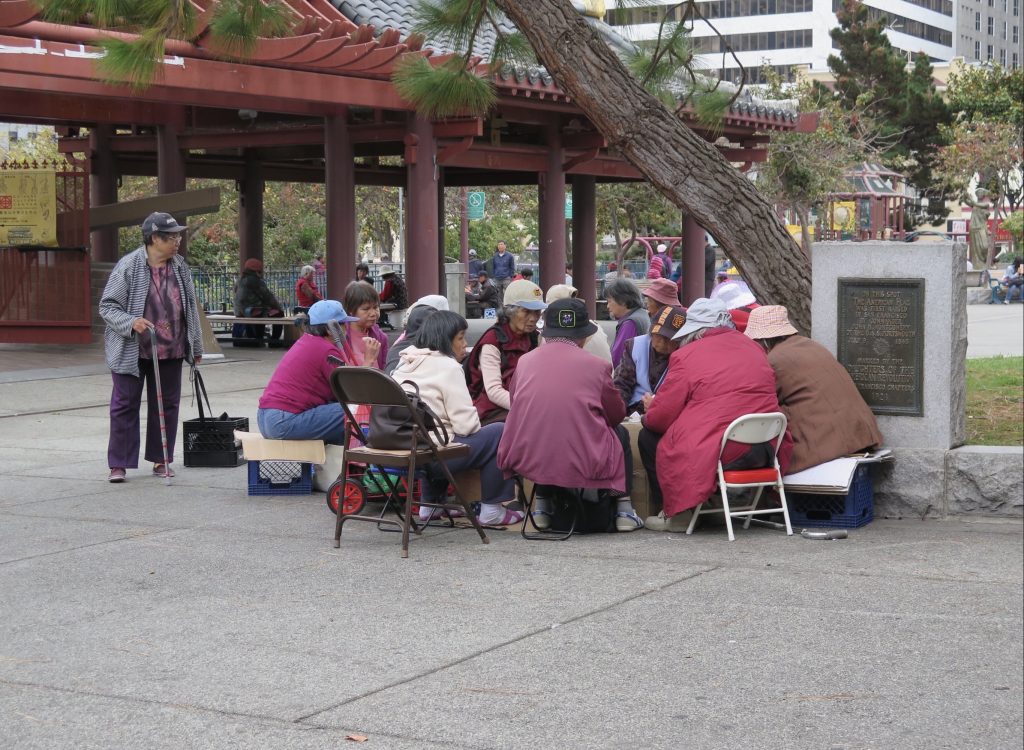 Location 4: Ross Alley – walking from Jackson St. to Washington St.
Location: Ross Alley
Episode Timestamp: 7:33
Before the earthquake, Chinatown was thought of as a "Gomorrah of opium dens, prostitution, and disease." Ross Alley, then called "Stouts Alley", was known as the Street of the Gamblers. Slum tourism thrived where "thrill-seeking" white people would hire a guide to lead them through scenes of alleged depravity – many of which were staged.
A prominent architect was hired to help rebuild downtown – one that did not include Chinatown and its residents. However, some of the city's top Chinese business owners fought back, threatening to take their business elsewhere. The threats were successful. They had won this battle, but the daunting task of rebuilding was still ahead.
Join us at the next location in Waverly Place to hear how Chinese-Americans transformed Chinatown from its reputation of sin and disease into a Disneyland for white San Franciscans.
Location 5: Waverly Place, towards Clay St.
Location: Waverly Place
Episode Timestamp: 11:33
Chinese people rebuilt Chinatown in the image of what they thought white people imagined China to look like an inaccurate representation that perpetuated stereotypes and misunderstandings about Chinese culture. This street you're standing on is nicknamed 'The Street of Painted Balconies', and exemplifies the style of architecture that was created in the rebuilding of San Francisco's Chinatown. It painted a picture purely from the imagination of two white architects who had never been to China, creating a Disneyland effect that felt more touristy than like someone's home.
Follow the map to the next location, where we'll explore how the architects' vision came to life.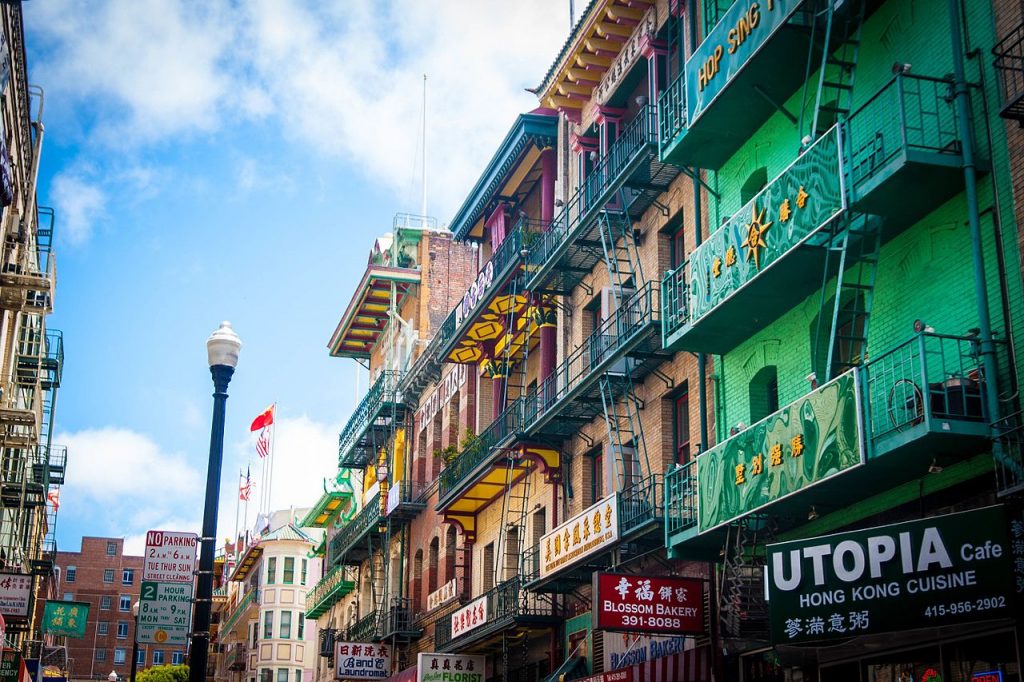 Location 6: Sing Chong Building
Location: Sing Chong
Episode Timestamp: 14:13
The only building that survived the earthquake of 1906 was the Sing Chong Building. In the rebuilding, it was topped with a small structure that looked like a pagoda. However, in China, not only were pagodas free-standing structures, they were also religious monuments. This building was so striking that it influenced the majority of new structures in Chinatown. The makeover was even enough to help change popular sentiment towards Chinese people – but not enough to let them live outside of Chinatown.
Follow the map to the border of Chinatown as it was in 1885, the edge of where Chinese San Franciscans could live.
Location 7: Border of Chinatown
Location: Border of Chinatown
Episode Timestamp: 17:42
While Chinese people were becoming more accepted, the rebranding of Chinatown also promoted certain stereotypes as it focused on the foreignness of the people who lived there. In reality, San Francisco's Chinatown – and those across North America – are portals of entry for new, working-class immigrants who don't speak English. You are standing at the edge of Chinatown according to the map drawn in 1885. This is where many immigrants' lives in the United States began.
San Francisco's Chinatown is an important piece of Chinese-American history built into the city's skyline. We hope you enjoyed learning a little more about the world around you.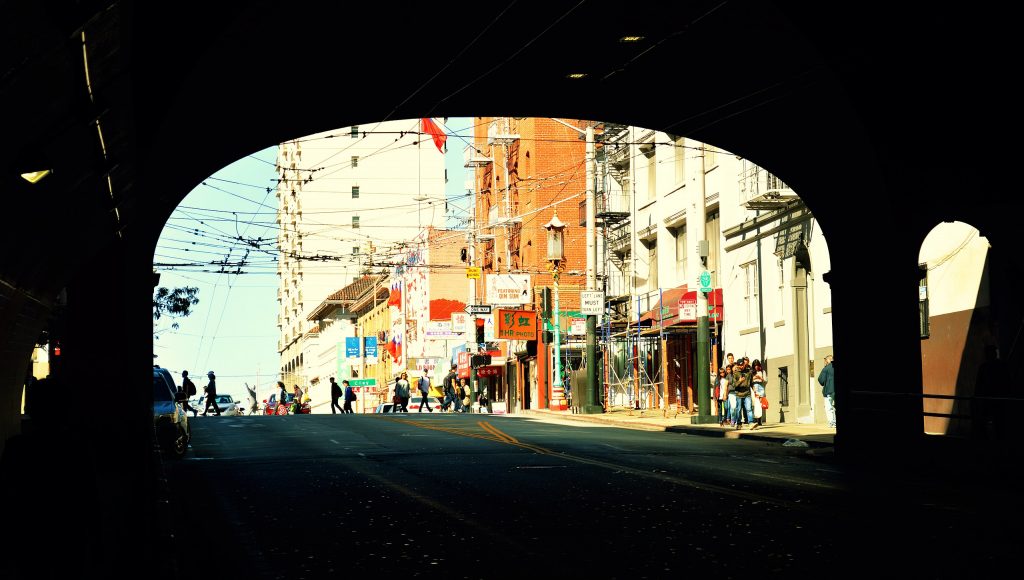 What do you think? Are you ready to find and explore the hidden history of the places around you? You should listen to more episodes here.
Ready for more? Story City helps bring your favourite podcasts and other storytelling content to life by allowing you to walk these stories in the real world. Download the Story City app to find more adventures near you!
Are You a Podcast Creator? Here's a New Way to Monetize Your Podcasts….
If you are a content creator, you can create your own interactive experiences from your content like what we did here with '99pi', and sell it on the Story City platform as an extra way to monetise!
With the Story City app, unlike a blog, each new location automatically unlocks when you reach the right spot – all you have to do as a creator is set up the journey using our simple creator tools! It's a great way to bring your content to life and allow your audience to walk (or drive!) your stories in the real world.
Sign up for the creator waitlist for our exclusive beta launch to try it out! There are limited spots available! http://about.storycity.app/itstime