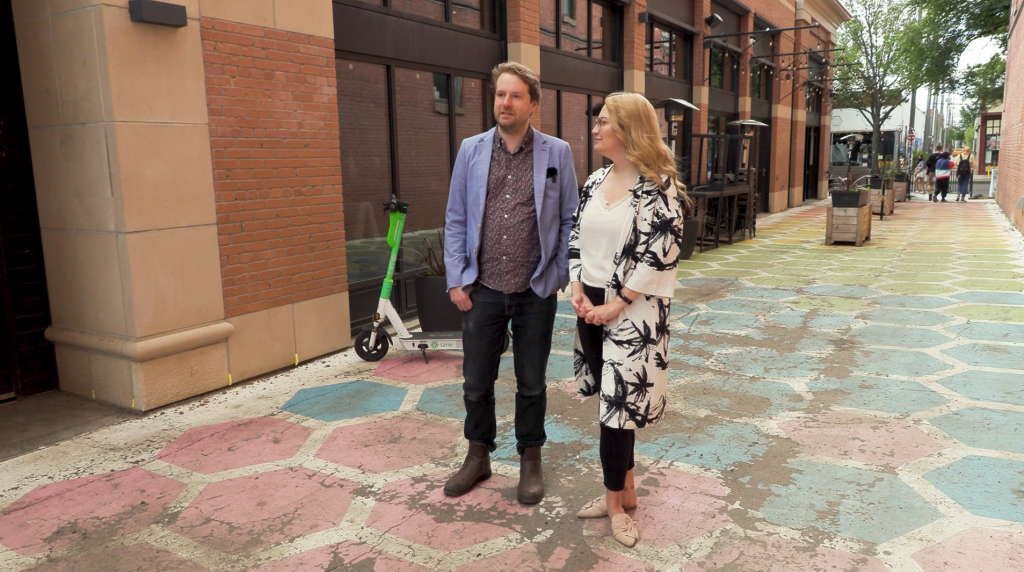 It's no secret that entrepreneurship is a huge economic driver. Through the introduction of new and innovative technologies, products, and services, a booming startup and entrepreneurship community breathes life into any city. It is important for cities to celebrate the vibrant entrepreneurship community they have so it can grow and attract talent to the city's ecosystem.
Economic development agencies need to figure out creative – and innovative ways to highlight why their city is the best place to start and grow a business. This can happen through storytelling and creative content development. Created by Story City, Edmonton Regional Innovation Network (ERIN), Innovate Edmonton, and StartupTNT recently launched an immersive experience called Startup Origin Stories to do just that.
So how does it work?
We could tell you how it works, but let's look at all the details about Startup Origin Stories, a project that was launched publicly on September 5, 2021.
The Details
Who: ERIN, Innovate Edmonton, and StartupTNT
City: Edmonton, Alberta, Canada
Experience size: 7 locations around Edmonton's Old Strathcona neighbourhood
Featured startups: Codo, Future Fields, MACH32, 2S Water, Jobber, Honest Door, CarePros
Production partner: Modern Muse Media
The Ask
StartupTNT, a vibrant network of startup companies and ecosystem partners, has been chronicling the story of Edmonton's entrepreneurship ecosystem since its inception in 2019. ERIN wanted to find ways to attract even more startups and talent to Alberta, so Story City was brought in to create an immersive experience showcasing Edmonton's broad range of innovative companies and the diversity of its entrepreneurship community while highlighting the best of what the city has to offer when you choose to make Edmonton home.
The Challenges
Emerging from the pandemic, it can be difficult to create experiences that are both engaging and activate city spaces in a way that makes everyone feel comfortable and safe. Even more important, innovation and entrepreneurship ecosystems traditionally rely on economic incentives and programs as the main way to bring in new talent and startup interest. Startup Origin Stories was designed to rely on more emotional levers for decision makers such as city livability and successful stories of entrepreneurship. This shift in focus would break from tradition, which is always a bit of a risk.
Storytelling and a city's unique, engaging features can help to build an emotional connection that is missing in so many economic development strategies.
The Ultimate Plan
Story City set out to create a fully immersive experience featuring 7 different Edmonton startups that would be developed in three phases. Startups were chosen from emerging to growth companies across half a dozen industries, representing the uniquely Edmontonian spirit of the community. Each entrepreneur was given the opportunity to share their personal experience with the startup ecosystem in Edmonton, the depth of innovation, and the access to resources. Most importantly, they shared how they feel about the community and what it's like to live and work in Edmonton.
At Story City, we understand the importance of location-based storytelling. When you can tie a location to a story, it becomes more personal and more memorable. So, a big part of each of the seven entrepreneur stories was to highlight some of the entrepreneurs' favourite places and how they inspire greatness and a sense of community. This experience needed to make clear that economic development is so much more than incentives and strategies – it's about meeting entrepreneurs where they are emotionally and showing them exactly how they can thrive in your city both professionally and personally.
Here is the breakdown of each of the phases, which took 4 months to complete:
Phase 1: Origin Stories of YEG Startups – Understanding the Edmonton Startup Community
Select 7 startups and produce 3-5 minute video 'Origin Stories' for each. Based on an open nomination system from the community, the selection of featured startups was divided into Growth Startups, Series A startups, and Emerging Startups.
Phase 2: Immersive digital experience of YEG Startups – Experiencing the Edmonton Startup Community
Using the video content created in Phase 1 along with location highlights from each entrepreneur, Story City created 90-minute, self-guided walking tour through Edmonton streets. As part of this immersive experience, each story was tied to a location that was either significant to the startup or the entrepreneur's love of Edmonton as a place to live.
At this phase, Story City also collected expanded interviews with each entrepreneur to provide more video or audio content. As people arrive at the right location on the walking tour, the content for each entrepreneur is unlocked so visitors can get a sense of their personal story and what makes Edmonton so special for these entrepreneurs.
A map of the route taken by this interactive tour through Edmonton's Old Strathcona neighbourhood.
Phase 3: Portrait Series of the YEG Startups – Showcasing the Edmonton Startup Community
As the city's arts community is as diverse as the startup and innovation community, a local artist was hired to complete a portrait of each entrepreneur using a variety of mediums and styles. These portraits will eventually be used to create physical exhibition assets that Edmonton's Economic Development agencies can take with them to innovation conferences, creating an interactive exhibit for conference goers where the digital content created is linked to each portrait.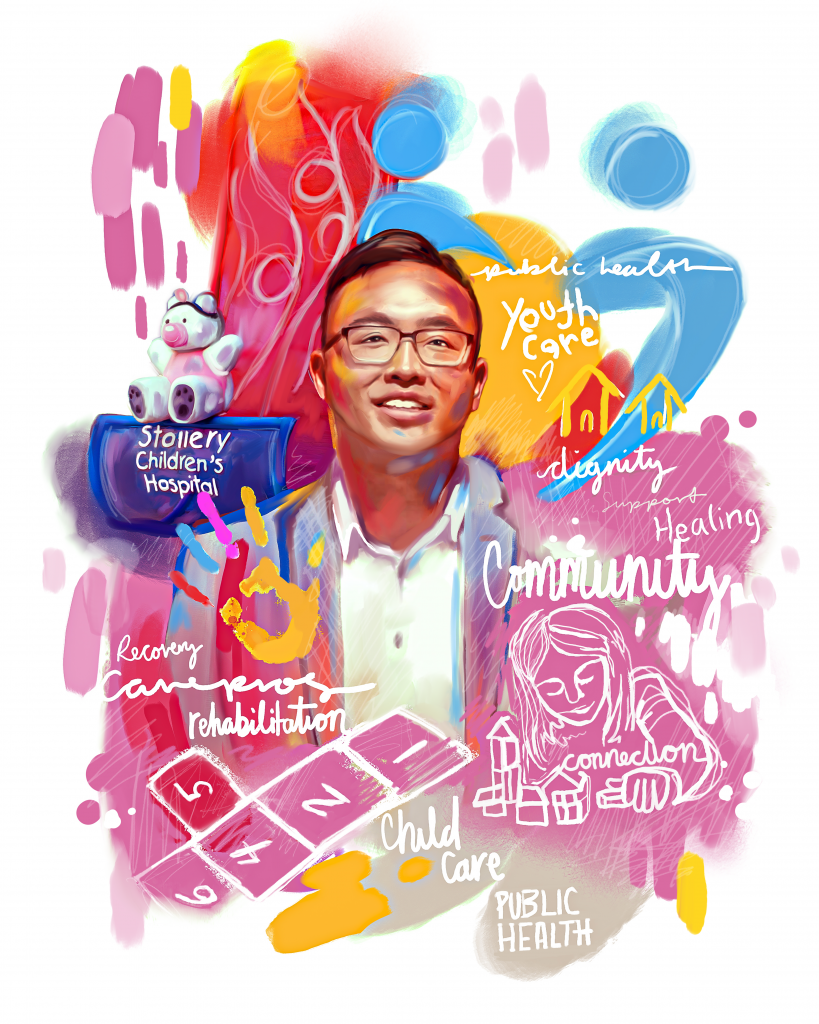 Results (Ongoing)
On September 5, 2021, Startup Origin Stories was publicly launched with a successful first-run at a launch event of the self-guided walking tour. The experience takes visitors through seven locations in Old Strathcona (see map featured in Phase 2).
The immersive experience features seven different Edmonton Startups from Jobber who's raised over $70M in investment funding, to YC graduates Future Fields, to brand new companies like CODO born out of the pandemic.
Not only is this immersive experience be available in perpetuity to the public for free, it is also available 24/7 so anyone can experience it at any time of day, any day of the week. Because there is a digital element to the experience, the only thing you need is a smartphone.
While the video content was created specifically for this immersive experience, they can also be used across the ecosystem, from service providers to economic development agencies, creating efficiencies and branding consistency. For example, any of the startup videos found here: Codo, Future Fields, MACH32, 2S Water, Jobber, Honest Door, Carepros can be embedded on a website, shared via podcasts, or even across multiple social media channels.
Download the Story City app on iOS or Android to activate this interactive gallery experience! If you would like to experience the walking tour virtually, scroll to the end of this post for instructions on how to use the Story City Spoiler Mode!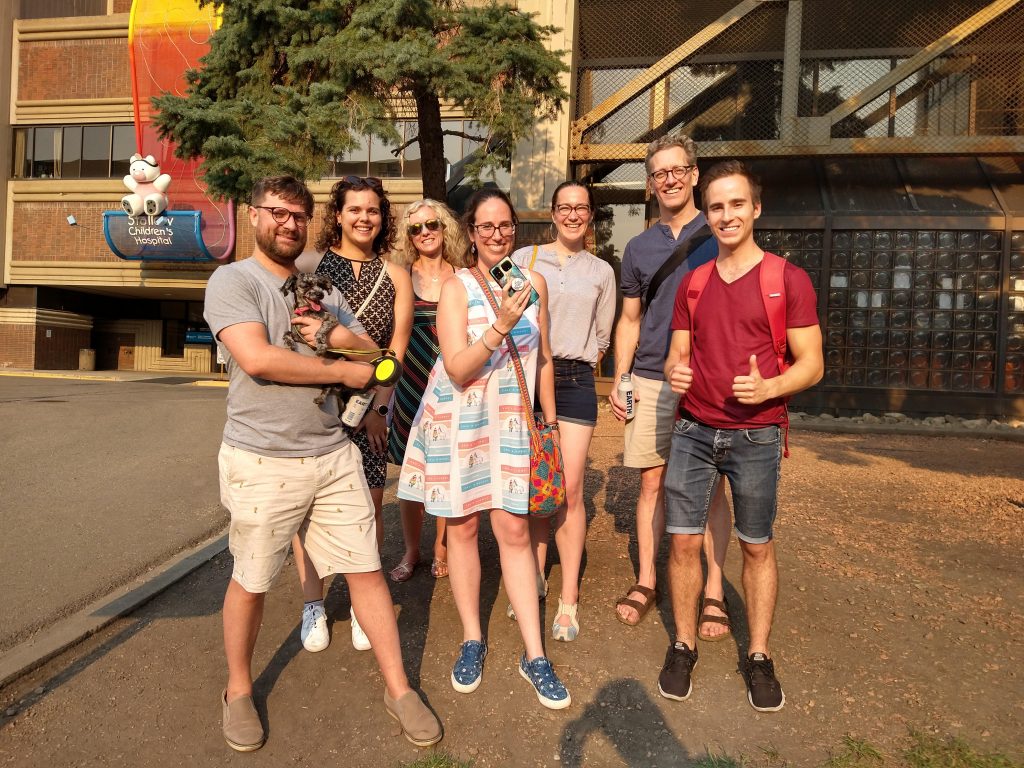 How can Story City Help You Unlock the Power of Interactive Storytelling for Your City?
Story City is an international leader in locative storytelling and cultural tourism. The GPS app is the only one of its kind that runs this type of interactive digital/real world experience.
We are currently working with several economic development agencies to build immersive experiences within their city that show how livable and vibrant the city is. Each tour focuses on one or more aspects that make the city great such as culture, food, history, innovation, etc. The goal with these immersive experiences (which can be done as virtual tours as well!) is to show off the city to remote workers who may be looking for a lifestyle change. Some agencies are also working with Story City to build industry-specific tours designed to attract companies who are looking to set up new office or headquarter spaces. For example, Houston, Texas is looking to attract more economic investment from Clean Energy and aerospace.
If you're an economic development agency that is looking for ways to increase economic investment and interest in your city while attracting top talent locally, contact Story City to see how we can help you promote everything your city has to offer in a more innovative and entertaining way.
Just email: info (at) storycity (dot) app
You can find more case studies here.
How To Activate The Story City Spoiler Mode To Take Someone On The Tour Remotely
While it is important to be able to activate the public spaces that make your city unique, it is equally important to attract interest from partners, clients, dignitaries, and companies from wherever they are. You can experience the Startup Origin Stories tour virtually by activating the Story City Spoiler Mode using the steps below. The possibilities are endless when it comes to connecting with economic partners to enrich your city.
Download the Story City app here
Use the map to discover stories in new places, or Select "Search" to access a specific experience like Startup Origin Stories in this case study.
Select your experience, and click the 'Add to Library Button', then hit 'view' to enter the main story overview.
Turn on Spoiler Mode. If you are not at the location, just tap the triple dot button on the top right to turn on spoiler mode. This will allow you to tap through the story using buttons at the end of each chapter.
Hit the Start button, take in the story! You can listen as an audio or in some cases watch the video.
Tap on the button in the end of chapter options at the bottom of your screen when you are ready to head to the next location in the virtual tour. Open the map to see where you would have been standing if you did this in the real world.
Keep going until you reach the end!
Note: Pressing the back button will not take you back to the previous location! To end the adventure and go back to a previous location, go to the hamburger menu on the top right (the triple lines) hit the 'End Story' button to end the adventure. You will then need to re-enter the story and navigate to the right location.