Test your nerves and experience some of Aaron Mahnke's creepiest stories from the critically acclaimed horror podcast 'Lore' on a self-guided walking tour through some of New Orleans' most haunted places.
---
You either love horror and creepy stories or you don't. That feeling when the hairs on the back of your neck stand up and you get goosebumps on your arm can be as addicting as the adrenaline that rushes through your body and you get that feeling of fight or flight. The Lore podcast has managed to pack that feeling into every episode. It's both fascinating and unsettling to learn about dark history from all over the world.
Aaron Mahnke's even tempo voice is almost a stark contrast to some of the scariest stories of our past – and some of our present. It's like sitting around the campfire with friends telling ghost stories waiting to see who will tap out first.
Launched in 2015, Lore has been thrilling listeners with well-researched, haunting, and creepy stories – that are non-fiction. Some of them are so hard to believe they seem like they would be fiction. It's the perfect mix of storytelling and horror and we're hooked. In fact, we love it so much that we actually mapped out the locations and episode time stamps for Episode 40, Everything Floats, so you can follow Aaron's stories via a haunted walking experience around New Orleans.
The "Big Easy" has a reputation of endless celebration and beautiful architecture, but it actually has a dark and sinister past. Throughout the city, you can find remnants of this past through the stories that used to only be told in secret – some details that are questionable still today. Are you ready to take yourself on a 2hr, self-guided walking tour of some of New Orleans' most haunted places?
What You Will Need
Google Maps: we give you the pin drop for each location below, just click on the link when you are heading there, or if you're checking out this online, see all the locations in one map here.
Pre-download Episode 40, Everything Floats, from The Lore Podcast
Ghost hunting attire.
Your nerves.
Location 1: Tomb of the Unknown Slave, Saint Augustine Catholic Church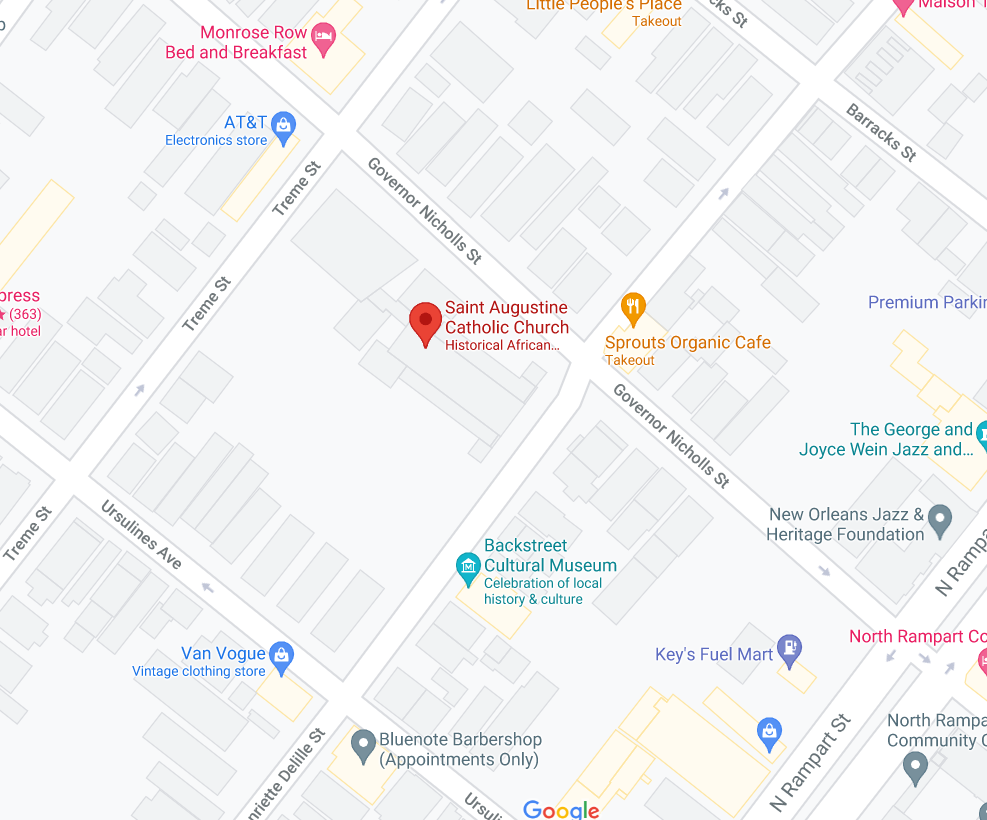 Location: 1210 Governor Nicholl St
Episode Timestamp: 0:00
---
As humans, we are capable of carrying out such tragedies that forever mark the future because of the impact they have on the past. The American slave trade took the lives of countless victims – many of whom lie beneath the ground you are walking on in the New Orleans neighborhood, Tremé. The Tomb of the Unknown Slave is meant to honor all of the victims of slavery in the United States, but it is a stark reminder that we may never truly know everything that is happening below our feet.
From the ghosts of a tragedy that marked the history of the United States to something more local, let's head to the second location.
Location 2: Lafitte's Blacksmith Shop Bar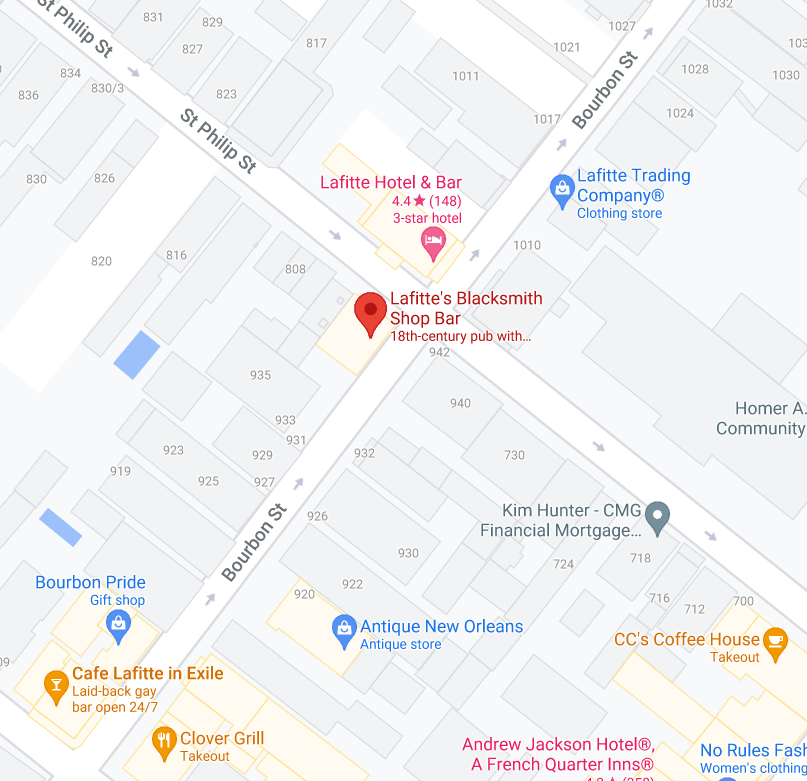 Location: 941 Bourbon St
Episode Timestamp: 2:44
---
From smugglers to American heroes, Jean and Pierre Lafitte played a major role in defending the city in battle after entering a deal with Andrew Jackson to gather troops and supplies. You're standing in one of the oldest surviving structures in New Orleans. That comes with many ghost stories. Call it luck or misfortune, you may catch a glimpse of one of the oldest "patrons" sitting at the bar near the fireplace – dressed in the attire of a late 18th-century sailor.
Feel like going for an… uncomfortable stroll? Head on over to the next location.
Location 3: St. Louis Cemetery No. 1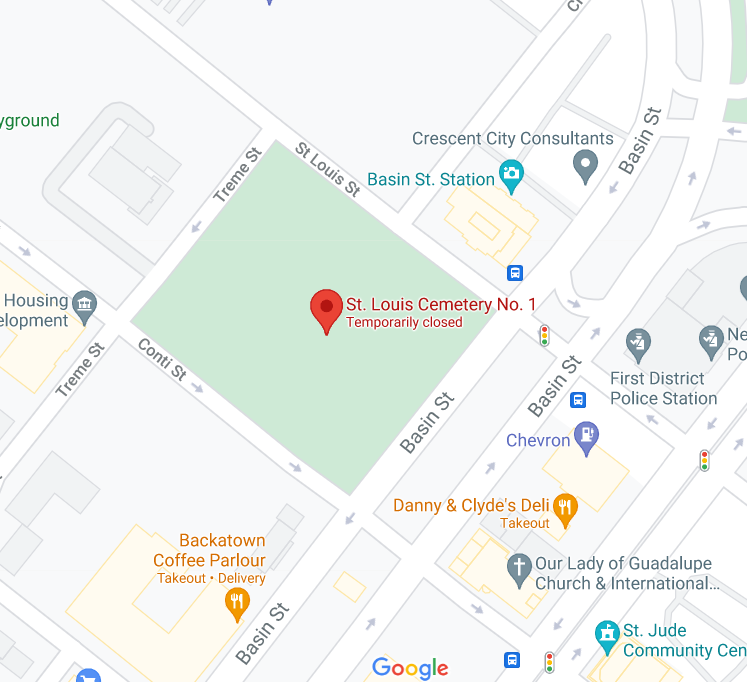 Location: 425 Basin Street
Episode Timestamp: 16:12
---
If a cemetery can be iconic, St. Louis Cemetery No. 1 would be it. Founded in 1789, the atmosphere is creepy even during the day – and full of secrets. The cemetery is crowded with family vaults and tombs and many visitors have recalled encounters with mysterious figures who will haunt the cemetery for eternity. If that wasn't enough, the cemetery is also where Marie Laveau, New Orleans' most famous Voodoo Queen was laid to rest.
Intrigued as to why Marie Laveau was the most famous Voodoo Queen in New Orleans? Let's go to the next location to find out.
Location 4: St. Louis Cathedral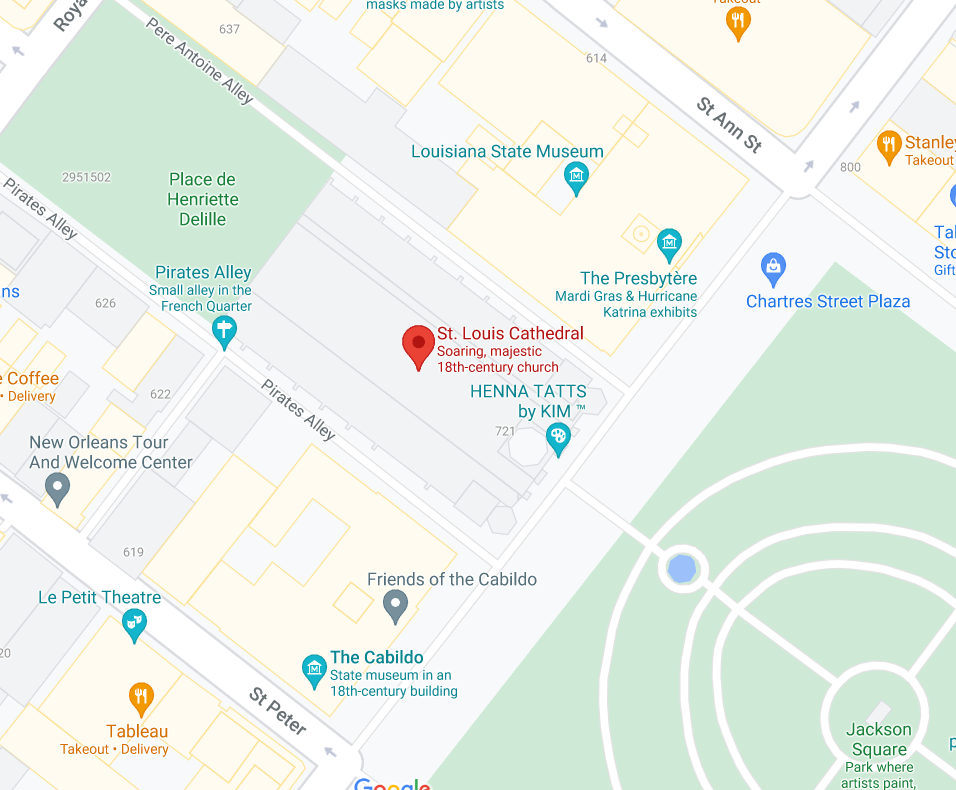 Location: 615 Pere Antoine Alley
Episode Timestamp: 9:49
---
There is a history of Voodoo Queens in New Orleans. Marie Laveau was born sometime between 1795 and 1805. She turned to a legendary career as a Voodoo practitioner after her husband passed away and she needed to make a living on her own. She was extremely well-connected, which allowed her to hold rites and ceremonies right inside the St. Louis Cathedral – the largest Catholic church in New Orleans. Legend has it, some of her gatherings attracted over 10,000 people who came to her for advice and other ritualistic items.
We know you want to hear more about Marie Laveau. How could you not? Head over to the next location where you'll learn one story about how she used her influence and three hot peppers to change the outcome of a murder trial.
Location 5: The Cabildo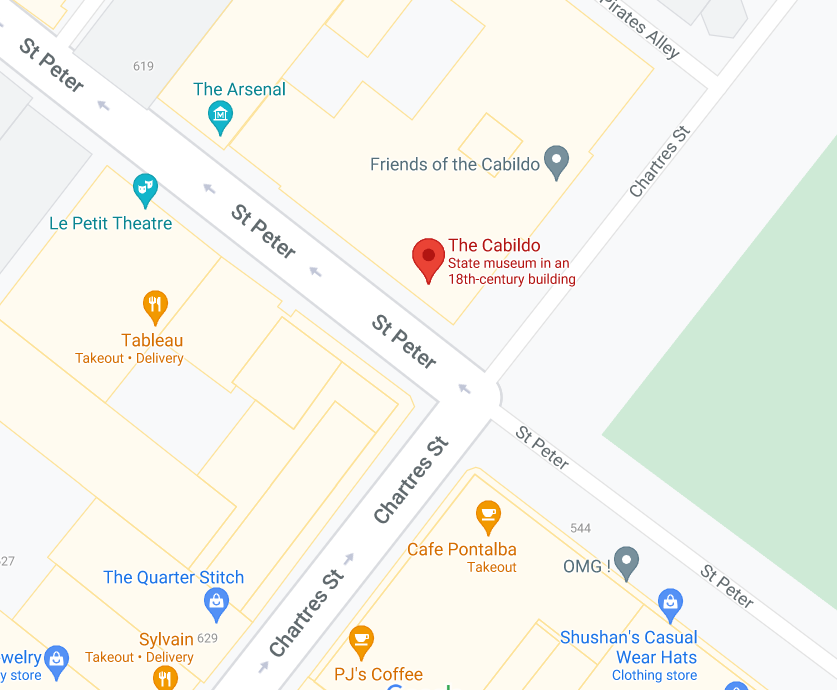 Location: 701 Chartres St
Episode Timestamp: 12:40 (Approximate)
---
What would you do if you or your family member were arrested and charged with murder? Hire a lawyer? How about turn to the most famous Voodoo Queen for assistance? In the mid-1830s, the son of a wealthy businessman got arrested for murder. The father made a deal with Marie to help free his son. Legend has it that weeks leading up to the trial she prayed at St. Louis Church with three hot guinea peppers in her mouth. The peppers were a talisman meant to influence the judge's mind and she placed them under his chair in the courtroom before the trial – the courtroom is in this very building. Wealth, political connection, or Voodoo, the son was acquitted of all charges.
Voodoo royalty to foreign royalty, the next location is where a really bloody tale took place.
Location 6: 716 Dauphine Street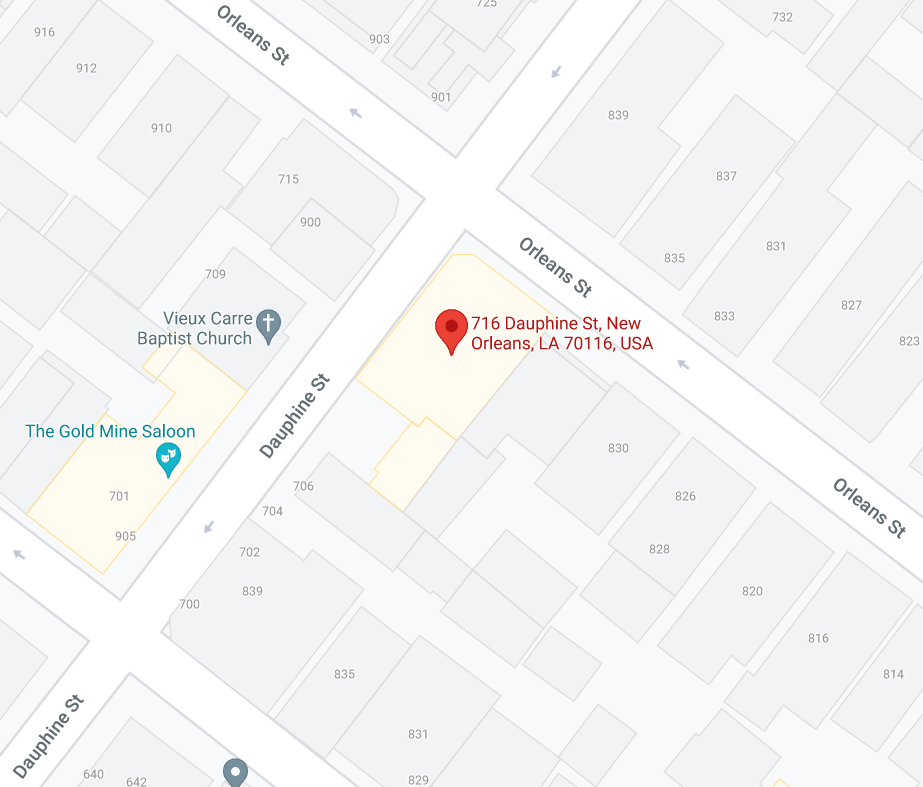 Location: 716 Dauphine St
Episode Timestamp: 14:10
---
At one point in history, this mansion was built as a symbol of wealth, but the original owner had to rent it out when he fell on hard times. The man who moved in told the owner that he was Prince Süleyman, former sultan of an undisclosed country in the Middle East. While the Prince and his guards tried to keep the secrets of the house within its walls, the neighbors talked and there are extravagant stories about parties and orgies that took place at night. One morning, rivers of blood were running down the front stairs. A bloody massacre was discovered inside with torn apart and dismembered bodies. In the courtyard, it appeared the prince had been buried alive and he died trying to claw his way out from the earth. To this day, no one knows what happened or who the Prince really was – but the building was converted to luxury apartments and it is said that his ghost is still trying to find ways to escape.
Let's head over to the last location.
Location 7: Washington Artillery Park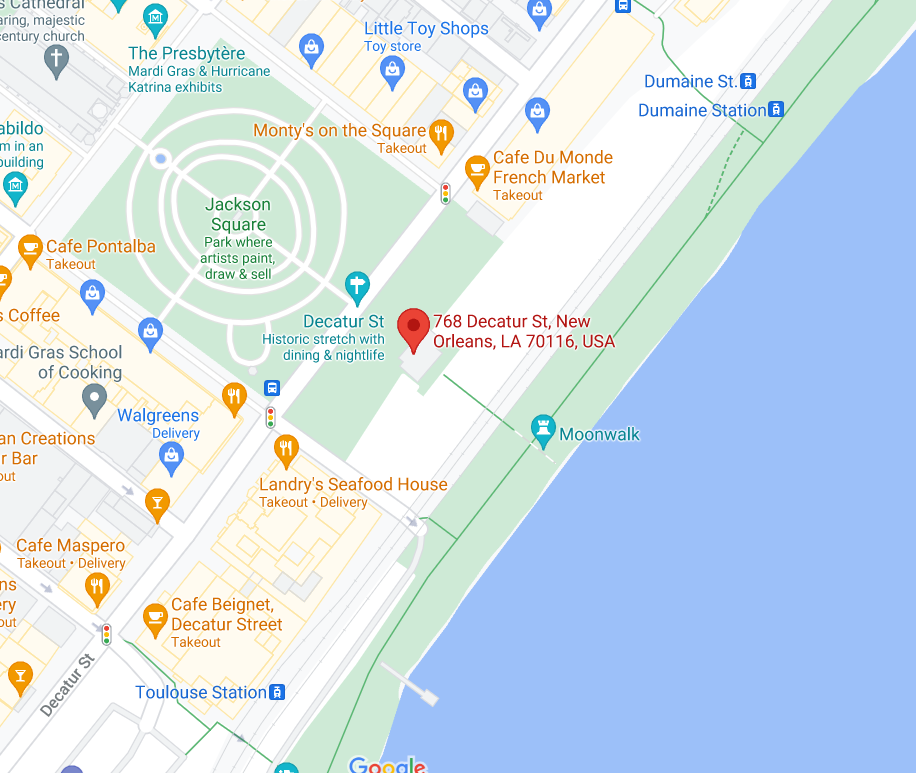 Location: 768 Decatur St
Episode timestamp: 19:45
---
Julie White (AKA Julie Brown or Julie Black) was another Voodoo queen much like Marie Laveau. In addition to her advice and rituals, she also provided oracle-like predictions. Because she had such a devoted follower base, her final prediction was quite unsettling: "I'm going to die and I'm going to take all of you will me." After she died in late September of 1915, the locals – who both loved and feared her – gathered in large numbers to celebrate her life. Out of nowhere, a category four hurricane ripped through New Orleans that day. Everyone at the funeral died. Their bodies were buried in a mass grave at the nearby swamp where bodies occasionally float to the surface, more than a century later.
Did you have any mysterious encounters on your walk?
If this is your first dive into 'Lore', you should definitely listen to more episodes here. If TV is more your thing, the podcast was also adapted into two seasons on Amazon Prime. And there is also a series of books!!
Ready for more? Story City helps bring your favorite podcasts and other storytelling content to life by literally allowing you to walk these stories in the real world. Just download the Story City app to find more adventures near you!
Are You a Podcast Creator? Here's a New Way to Monetize Your Podcasts….
If you are a content creator, you can even create your own interactive experiences from your content like what we did here with 'Lore' today, and sell it on the Story City platform as an extra way to monetize!
Except with the Story City app, unlike a blog, each new location automatically unlocks when you reach the right spot – all you have to do as a creator is set up the journey using our simple creator tools! It's a great way to bring your content to life as a storyteller or podcast creator, and allow your audience to literally walk (or drive!) your stories in the real world.
Sign up for the creator waitlist for our exclusive beta launch to try it out! There are limited spots available! http://about.storycity.app/itstime